Acumatica 2018 Summit – Excitement, Attendance, and Awe-Inspiring Technology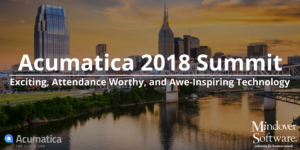 We're not easily wowed by technology summits. We've attended quite a few in our day and they're all very good. But the Acumatica 2018 Summit was beyond good—it was excellent! Not only was the excitement palpable in the audience, but attendance was up 50% and the company debuted some truly awe-inspiring technology.
First, what is the Acumatica 2018 Summit? It was a huge meeting of Acumatica VARs, developers, and others interested in or working with Acumatica. This year's summit was held January 28 – February 2 in Nashville, Tennessee.
At the summit, we saw cutting-edge technology that's going to change a lot of how you think and work with software. This software removes barriers and limitations that are within other platforms.
Acumatica doesn't shy away from investing in its technology and it does things differently. For example, fully 75% of their employees are developers! That means they're truly committed to progress and excellence in their software.
Many companies fail to invest fully in development, so their products remain stagnant for awhile, chugging along while the marketplace changes and users need more. Acumatica is different. They're keep up with changing trends.
For example, how people consume information changes frequently. Acumatica updates its software to adapt to what the marketplace demands. They continue to expand and release new editions for different industries. They aren't afraid to roll out improvements as they develop them. That's different from other companies. Most hold back and wait until they can launch a new (and expensive) upgrade. Acumatica just keeps updating and improving their product when people need it. That's what we love about Acumatica.
For more information about Acumatica, please visit Acumatica ERP on the Mindover Software site.