in: Company News, Acumatica
What's so special about ERP for construction? Acumatica, one of the world's leading mid-market ERP providers, found that the construction industry requires specific features few other ERP providers understood. So, they came out with the Acumatica Construction Edition in 2018 with features tailor-made for home builders, contractors, and land developers. The result is a powerful ERP system that does more than help with estimates, job costing, and financial projections. It can help contractors address red flags derailing their business.
What Is Acumatica Construction Edition?
Acumatica is an enterprise resource planning (ERP) platform. The company has produced several editions, each addressing the unique needs of various industries. This includes construction. An ERP for construction was long overdue, especially since the construction industry in the United States is valued at $1.689 trillion and employs over 7 million people.
The Acumatica Construction Edition offers features specific and unique to the construction industry. Some features remain the same across all Acumatica editions. For example, you can change the colors of the system to reflect your company's brand colors and adjust the dashboard so that it offers views unique for each user.
This edition leverages Acumatica Cloud xRP platform and core application suites, and includes:
Project Accounting
Compliance Management
Retainage
Change Orders
Job Costing
Document Management
This true cloud construction ERP includes Open API 2.0 standards for creating and maintaining multi-cloud interfaces such as field operations with Procore and Hyphen Solutions, payroll with Criterion, visual scheduling with SmartSheet, productivity tools with Microsoft Office 365, electronic signatures with DocuSign and Adobe, and further integrations with other business applications.
Why Choose a Special ERP for Construction?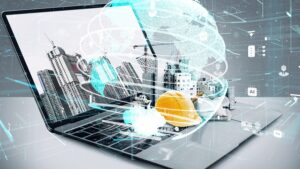 You could, of course, manage your construction business with spreadsheets. Many small contractors do. However, spreadsheets can be time consuming, confusing, and difficult to work with. They're terrible at providing a 360-degree view of the business and cannot provide any insights into what's going on with the company. They can track data—and that's about it.
Other software packages can cover specific needs, but do not provide a big-picture view. Off-the-shelf small business accounting software can handle simple general ledger records, invoicing, and bill tracking, but it cannot provide the depth of reporting needed by construction—things like the profitability of each job, the cost of materials, labor, suppliers, and so on.
A specialized ERP for construction, however, does this and more. For a construction business owner, time is money. Any minute spent in the office handling paperwork or data is a minute away from a job site. Specialized ERP for construction enables them to spend more time on the job and less time on business management.
Problem-Solving Features
Construction businesses face problems highly specific to the industry:
Incomplete information, which leads to mistakes in job estimates and costing
Disconnected processes, which can lead to problems with job scheduling, completion dates, staffing, and more
Problems or red flags that, if addressed, could prevent major problems from developing
Incomplete Information
Incomplete information for a construction company can cause many problems: job estimate errors, costing errors, and more. It can also lead to major headaches such as over- or under-ordering supplies, mistakes in scheduling, and other areas that can lead to disrupted timelines, lost profits, and excess costs.
Acumatica Construction ERP provides contractors with a big-picture view of every aspect of their jobs. They can then drill down into specific areas, such as project notes, estimates, subcontractors, timelines, and more. The system even provides a view of a job site camera so you can see the progress on screen next to the account data. Additional apps provide information on other items important to contractors – even weather conditions!
These features ensure that information within Acumatica Construction ERP is as complete as possible. With the comprehensive jobsite information, you're in a much better position to make important decisions about each project.
Disconnected Processes
The ability to connect the dots among construction processes is essential for successful projects. Contractors must be able to schedule and coordinate subcontractors with the finesse of an orchestra conductor: the drywall team on this date, painters on that date, tile crew on another.
If, however, scheduling is disconnected from job information, it can be difficult to shuffle between job spreadsheets showing what's quoted and the quotes coming in from the subs. Additionally, reconciling quotes with actuals, scheduling crews at multiple locations, and more becomes quite the juggling act with paper-based documents.
The ability to connect processes within the Acumatica Construction ERP dashboard is an incredible time- and money-saver for contractors. It enables you to view all processes from the big-picture lens, yet still access specific information on each step in the process. Such information can be used to improve production, shorten timelines, increase profits, and more.
Red Flags
Red flags mean warning signs—signs that something isn't going right, or that something is about to go wrong. In the construction business, the ability to spot red flags can mean the difference between successful companies and companies that go out of business.
Let's look at one simple example. Acme Construction hired Miller Masonry to pour concrete for the foundation of a new two-story residential dwelling. Joe, the job foreman, notices that the concrete isn't setting well. He brings it to the attention of Cameron, the driver of the Miller cement mixer. Cameron shrugs it off. Joe feels like it might lead to problems later, especially since Acme has hired Miller to pour several other foundations locally.
In a typical construction business running on spreadsheets, Joe might mention his concerns to his foreman or the general contractor, but from there, who knows what will happen? Perhaps that person has conversation with Cameron or the owners of Miller Masonry and is satisfied that the concrete is fine. Two months later, another problem with a Miller delivery occurs, but because the issue isn't tracked in a centralized ERP system, the crew working that job site do not connect it to the original issue Joe noticed. Miller may deliver poor quality concrete to several jobsites before someone realizes it—and some of those sites may already have the framing done. What then?
Now, imagine if Acme purchased Acumatica Construction Edition. Joe can log his concerns into Acumatica directly from the job site since Acumatica is a true cloud ERP. Meanwhile, across town, another crew from Acme is working with Miller, and notices the same thing. They can immediately show the data to the Acme general manager who can then halt all deliveries from Miller until the problem is investigated or fixed—or they can move on to another masonry firm with better quality products.
With a centralized cloud ERP for construction, such information becomes useful, searchable, and valuable. It's not hidden in one conversation at one job site because it's now a record that can be searched, measured, and followed.
Within Acumatica Construction Edition are fields that can be filled in by employees on the job itself. Because it is true cloud ERP, these notes can be taken in the field and shared immediately. This ensures issues that pop up and cause red flags can be addressed whether the crew leader is on site or working from another job.
Are You Ready for True Cloud Construction ERP?
Contractors who are serious about improving profit margins, decreasing costs, and enhancing their overall job quality should explore Acumatica Construction ERP. It is the best "tool for the job" when looking at managing your overall business for enhanced profitability and efficiency.
Mindover Software
Mindover Software is a software reseller with a broad range of accounting, ERP, finance, customer relationship management, and other software products, including Acumatica software. For more information about Acumatica or other software needs, please contact us or call 512-990-3994.