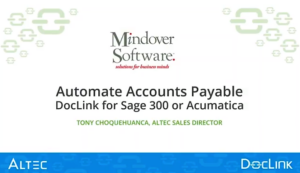 Are Accounts Payable paper trails weighing you down?
Even the most tech savvy companies endure slow AP processes because of too much paper. If your team deals with convoluted access to documents and/or no control over day‐to‐day processes and time, a document management system is a great solution!
The concept of business productivity can become a reality by adopting a document management initiative and automating age‐old paper practices.
With DocLink, you can leverage existing data in your ERP to automatically and accurately index documents.
During this webinar you will see how adopting a document management in your Accounting Department can:
Streamline accounting processes, resulting in decreased cycle times for monthly closes
Ensure timely approvals (even on the go!)
Allow users to retrieve supporting documents instantly and easily
Eliminate filing and minimize data entry
Increase accounting department productivity by as much as 40%