in: Company News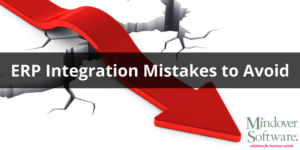 There's no denying enterprise resource planning (ERP) software is a boon and benefit to business. ERP systems can connect software and services from multiple departments into one central location, and companies rely on this centralization to help them keep operations running at an uninterrupted clip. ERPs are at the center of modern business efficiency.
But, ERP integration can be tricky. And, because of the complex nature of integrated business software, some issues may not surface for several months down the road after integration. Knowing the warning signs takes a practiced eye and, if you can learn to identify them early, you can save a lot of headaches down the road.
Big Warning Signs
Watch for some of these warning signs along the road to ERP integration.
Rushing In: New technology is exciting, and it's tempting to try to just jump right in. With an ERP integration, however, it's smarter to take your time and make sure this is the right ERP for your organization and ensure you can set everything up for proper transition. Mindover Software can help match you to the right ERP system to smooth out the road to transition.
No One is On Board: ERP integration takes time, and there will be some bumps in the road, but the journey is so much smoother if your team is on board with the project. Involve your main users in early discussions about your integrated business software and help them understand how this new ERP system will help make their jobs easier. Understand that people are naturally resistant to change; however, enabling them to be part of the solution as you implement will give them ownership over the project.
Cloudy Vision: When determining the right integrated business software for your organization, it's important to be specific on needs and requirements. Without clear vision of what you expect this software to do—and therefore assurance it can adequately perform for your needs—you set your organization up for disappointment. Properly defined goals for the integration project will not only ensure you get exactly what you need, but also enable you to accurately define whether the integration was a success.
Bested by Excitement: New tools and systems are exciting, there's no doubt about it. But, if you only gravitate toward the latest technology because it's the latest technology, you risk missing out on technology that is better suited for your organization. Avoid letting the shiny new technology drive your decisions. Mindover Software is dedicated to finding the best software that connects the needs of your users and drives business outcomes.
A Smooth Road to Integration
There's a lot to consider when selecting a new ERP, whether this is your first integration project or you're moving from one ERP to another. At Mindover Software, we are committed to getting the right integrated business software in place to fit the needs of your business and your users. Our software selection and implementation services offers the knowledge and experience to help steer you away from the warning signs and onto the road to a successful ERP integration.
Mindover Software provides business software and solutions to companies of all sizes. Contact us today to discuss finding the best ERP for your organization.