in: Company News, Accounting
Choosing the right cloud accounting software can make every task so much easier. Take the aspect of cloud accounting software that's often underestimated: the mobile app. Just as your favorite bank or credit union has a mobile app, making it easy to conduct transactions from your smartphone while you're on the go, so too do many ERP vendors offer mobile apps. This ensures that no matter where you are during a given workday, you can access important information, enter data, and receive a complete picture of your company's finances.
Why Do ERP Companies Offer Mobile Apps?
Over the past decade, the world has seen an explosion in the use of handheld devices to connect with the internet. In 2015, Pew Research reported that 65% of Americans have a smartphone; today that number is 97%. Many businesspeople rely upon their smartphones as heavily for business support as they do for personal use, with fewer people logging into a desktop or laptop computer to perform simple tasks such as checking emails.
With this rise in the use of smartphone technology, companies issue apps to make accessing their systems faster and easier. And, just as people are used to banking through an app or accessing their favorite social media sites using a shortcut app, so too do they insist on finding and using their business tools with apps.
Finding Cloud Accounting Software with an App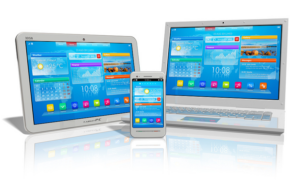 If you travel frequently for business, or members of your company visit customers, travel, or enjoy remote/hybrid work, then you need cloud accounting software. Such software enables users to log into the system from an internet connected device. And, if the software comes with an app, accessing the site through an app is simple and convenient.
But how do you choose the best cloud accounting software? Consider the following requirements—which ones do you think you will need?
Is the software web-based? Web-based software ensures easy, convenient access whenever there is an internet connection.
Can it be customized? Customizable dashboards, such as those found in Acumatica cloud accounting software (ERP), ensure users have precisely what they need on their dashboard without hunting for it.
Real-time data tracking: Can the software update in real time? This is especially important if customers access data through the accounting portal, too. Customers demand accurate, up-to-date information on their orders, refunds, and payment information.
Demonstrate consistent improvements: Does the software maker issue updates and improvements? Some platforms update infrequently while others, such as Acumatica, make it a point to release frequent small updates and often one or two large annual updates that add functionality to their basic platform. You want a cloud accounting program that continually evolves and improves with the market, keeping pace so you do not have to switch to another provider to access new and helpful features as they enter the market.
Cloud Accounting: Flexibility for Mobile Finance
While not everyone will download a cloud accounting software app onto their smartphones, having access to your data through an internet connection means that no matter what the business world throws at you—travel, customer meetings, conferences, working from home—you'll have both the access and the information you need to keep your business running smoothly.