in: Company News, Enterprise Resource Planning (ERP)
Although you might not think that an ERP business software solution can help your business handle its potential labor shortages, it can. Here's how the time-saving features in an ERP software platform can save you time and enable your business to continue growing even during times of labor shortages.
The Current Situation
The United States Chamber of Commerce issued a statement in 2022 saying that the current labor shortage is "unprecedented." As of May 2022, there were 5.6 million more jobs open than job seekers.
In short, we have almost two jobs available for every one person actively looking for a job.
Throughout the history of the United States, we have gone through periods when the unemployment rate has skyrocketed (the 1930s) and times when various industries went through boom-and-bust cycles. No other period, however, has the United States felt the lack of workers for many open jobs.
How ERP Software Helps During Labor Shortages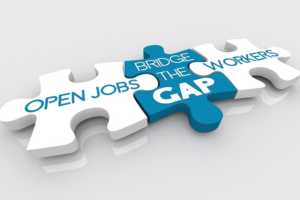 ERP software provides companies with end-to-end management of critical tasks, data, and information: accounting, finance, operations, and more. Depending on the modules added to the basic software, marketing and human resources data may also be included, as well as field sales and warehouse and inventory information.
During times when labor is in short supply, the more businesses can automate their systems, the better. This is where an ERP really shines. Many routine tasks can be automated in ERP business software, thus freeing up time for employees to work on other tasks. The worker shortage may be eased somewhat by the addition of such automation.
Areas where an ERP business solution can automate formerly manual tasks include:
Improved Data Collection
Your company probably collects data from multiple sources. Whether it's the stock count from a warehouse inventory or checking time sheets, data comes from operations, accounting, marketing, human resources, and other departments.
Automated data collection saves considerable time and effort. Not only does it free up the time it formerly took an employee to collect the data, but in many cases, it frees up the time it took to manually enter the data into a spreadsheet or other computer program.
Ways in which data can be collected automatically include:
Integrated various systems, such as a CRM system with the ERP or a time sheet tracking platform with the ERP.
Using an automated inventory tracking program and associated software which can transform tablets and smartphones into handheld scanners.
Such automation not only reduces the time it takes to track and enter data, but it also reduces errors by removing manual steps in the process. It's an excellent way to save time and reduce errors.
Streamline Onboarding and Training
Another task that can be automated includes onboarding and training. By shortening the time it takes to train new employees, you can get them into the routine and on task faster.
First, certain software makes this easier. We mentioned barcode scanning equipment that taps into smartphones and tablets. This leverages equipment workers are already familiar with and makes it a simple transition from checking their phones to swiping a barcode.
Other human resources tasks can be automated, too. New hire paperwork can take time to complete. Much of it can be done online, with automated checklists to ensure that employees complete all the necessary paperwork.
Additionally, training can be conducted online too. Pre-recorded webinars can impart experienced mentors' wisdom to newcomers to the job, and some job skills can also be trained using recorded training.
Digital Transformation Helps Many Areas
Although we'd like to think we have the solution to the current labor crunch, there's no one answer. Some companies need entry level workers; others need skilled machinists, miners, or marketers. The smaller labor pool, however, makes it harder to fill every job that's available. Minimize the stress by maximizing the time saved using ERP software.
Mindover Software can help you use your ERP business software for greater efficiency and profitability. Contact us to get started.