in: Company News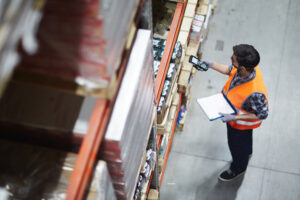 To err is human, says Alexander Pope. But, when it comes to warehouse management, to err is to cost a lot of money. Mistakes during the fulfillment process can not only eat into profits but also run the risk of giving customers a bad impression of your company. If that impression is bad enough, you run the risk of losing customers to competitors. A mistake may be small and unintentional, but it can cost your company anywhere from a few dollars to thousands each year.
Fortunately, you're not alone. Experts have suggested many of the following tips as ways to reduce fulfillment errors, improve profitability, and to increase overall customer satisfaction. How many have you already implemented?
Tip #1: Automate your warehouse.
Automated warehouses use barcode scanners, warehouse management systems, and other tools to log goods into the warehouse and out again during fulfillment. Such systems reduce the amount of manual errors that are caused by failing to count items, incorrect counts, and mistakes during data entry.
Tip #2: Structure the process.
If your warehouse doesn't have a structured process for receiving orders, picking, packing, and shipping, you are leaving your order fulfillment success rate to chance. Reduce mistakes and close gaps in the system by creating a structure and process that details each step for your employees. Document the full process in writing and train your employees on each step. Stay in charge: Don't leave it to your employees to create the steps in the process, or you will end up with many—and possibly competing—processes in place.
Tip #3: Reduce the number of steps in order fulfillment.
Another problematic area in order fulfillment is the number of steps it takes to fulfill orders. If the steps are so lengthy and complicated that employees can't remember them easily, you open your employees to a multitude of mistakes. Any process with more than a handful of steps is too long. Spend some time in the warehouse working alongside your team to see what's working and what isn't. Update the process, reducing redundant steps to make the process simple and effective.
Tip #4: Set a baseline to measure improvement.
You may have heard from employees that there are "many" mistakes being made in the shipping process. Just how many mistakes are "many"? Whenever you can, quantify the situation and set a baseline so you will know for certain whether improvements you make are having the desired effect.
For example, say that as of today, five percent of your warehouse's orders have a mistake in them. When you examine this data, you see that employees are mixing up packages, placing the wrong packages in the wrong shipper's bins. This delays orders because the packages are returned from the incorrect shipper.
Given that absolute figure and an understanding of the nature of the problem, you can now take action steps to rectify it. There are many things you can do to reinforce the positive nature of your improvements, such as rewarding employees for reducing the error rate. Without the baseline, however, there's no way to know whether changes made any impact at all.
Mindover Software Can Provide Warehouse Management Insights
Mindover Software's team of experienced professionals have decades of experience designing and supporting business solutions for every size company. Whether your warehouse is large or small, or you have two or twenty-two, click here to let Mindover help you get the correct systems in place to support your warehouse management goals.