in: Company News, Acumatica, Distribution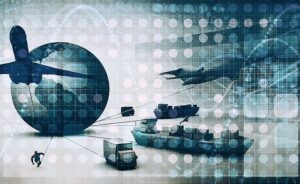 Distribution ERP software offers many features and benefits to distributors that differ from the typical manufacturing ERP. Distributions handle higher order volumes and potentially larger quantities than their manufacturing counterparts. This higher transaction volume demands an ERP capable of handling a large volume of requests and processing a great deal of data. Distribution ERP software fits the bill.
The right distribution ERP software can not only support the needs of a growing company but offers features that enhance its ability to grow.
Live Inventory Reports
What's your biggest time waster? Many distributors find that getting an accurate handle on their inventory counts at any given time can be challenging. Walking out to the warehouse or the supply yard and physically checking on product inventory every time you get a phone call from a customer doesn't just waste time, it also impedes growth. You can't sell what you don't know you have—and an accurate inventory count is the first step to knowing what's on hand.
With distribution ERP software, you can use several features to keep current inventory counts in the system. Instead of spending time finding products in the warehouse, staff can simply look them up in the ERP system. Knowing what's in stock, what's salable, and the amount on hand means you can sell with assurance. Live inventory reports are a huge help to a growing distribution company.
Enhance Customer Service
Those live inventory reports also help improve customer service. Immediate data accessed through distribution ERP reports means the information obtained from the system is up to date. Customer inquiries can be answered with assurance because the inventory information in the system is accurate and reliable. It's a huge improvement in customer service.
Improve Supply Chain Management
Tracking inventory through distribution ERP software also means tracking the origination of all goods in the warehouse. Using your ERP system, you'll be able to compare wholesale costs, quality reports, returns, and more to get a better handle on your supply chain and its vendors. You can then use this information to adjust vendors as needed to ensure high quality products in the warehouse, better margins on products, and shorter shipping times.
Additionally, some distribution ERP software systems enable vendors to have their own system access. Updated delivery times can flow through the system so that you can track when products leave the vendors' warehouses and when they're expected at your business. It's a huge improvement in supply chain management and one that can lead to better margins, shorter delivery times, and better service.
Increase Sales
To increase profits, you need to increase sales and decrease costs. But to do that, you need to have tight control on costs and the right mechanism to increase sales.
Distribution ERP software such as the Acumatica Distribution Edition enables you to promote and sell more effectively to your existing customers through a customer relationship management, or CRM, system. Connected e-commerce and point of sales systems help you manage all points of contact and sales from one central location
Know Your True Costs
Accurate reports can go a long way toward supporting company growth, too. With a distribution ERP system, you'll be able to determine profitability by warehouse, location, business unit, or product line. Cloud systems offer real-time visibility to control costs across the entire distribution system and supply chain. The resulting data can help you decide where to invest time, money, and resources to increase profits.
Acumatica Distribution Edition
Acumatica Distribution Edition is a distribution ERP software that can help you automate many processes, reduce errors in order fulfillment and purchasing, and monitor all aspects of supply chain and distribution systems. All distribution activities can be connected to sales and financial data for both broad and deep reporting and visibility into all areas of your business.
With knowledge comes power, and empowerment is the key to managing toward growth objectives. Managing inventory, suppliers, and costs using a distribution platform is an excellent step toward increasing profits in an industry known for its slim margins. The result can be profitable business growth.
Mindover Software
Mindover Software is a software reseller with a broad range of accounting, ERP, finance, customer relationship management, and other software products, including Acumatica software. For more information about Acumatica or other software needs, please contact us or call 512-990-3994.