in: Company News, Manufacturing Solutions
Everyone thinks they know what implementing supply chain automation means. The usual definition is applying technology to the supply chain to automate certain functions.
However, implementing supply chain automation includes many changes throughout the supply chain. Automation can include:
Project planning
Raw materials sourcing
Manufacturing
Delivery
Warehouse, inventory, returns
Supply chain automation is also not limited to one section of a business. Typically, automating the supply chain has ripple effects on other parts of the business. This means digital transformation, once intended just for the supply chain, extends through many parts of the business itself.
Embarking on supply chain automation may feel daunting, but with a few steps, implementing supply chain automation becomes easier.
Why Focus on Implementing Supply Chain Automation?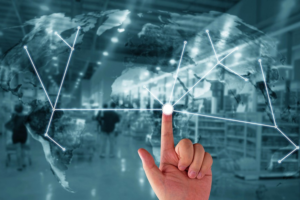 The main reason companies focus on supply chain automation is profitability.
Companies with an automated supply chain can:
Move goods and materials faster, thus filling orders more quickly and improving customer loyalty
Enhance visibility into sources, making tracking supplies easier
Improve job scheduling and cost estimations
Consider the following examples of how supply chain automation can be used:
Automate BOM production and job scheduling using software that pulls estimates into BOM production and job scheduling. This automation saves countless hours and estimating time and makes it easier to track estimates, schedule jobs, and handle production timelines.
Improve visibility into sources for materials, track materials back to individual vendors, and compare prices. This feature is a plus for all manufacturers but especially process and pharmaceutical manufacturers, both of which rely upon supply chain traceability as part of their quality control process.
Schedule jobs more efficiently and provide customers with better timelines. Automation software can be used for job scheduling to reduce waste in the manufacturing process. Reductions in waste mean cost savings.
Track delivery times through your company's ERP and automate messages to customers alerting them of their order status. This is another example of how automation improves customer satisfaction and retention. Improved communication can lead to repeat orders and recommendations for new business.
All elements of supply chain automation work together to form a more efficient workflow, thus improving overall company delivery and availability of services.
Speed Becomes a Competitive Edge
Thanks to implementing supply chain automation, the speed with which both goods and information flows is greatly enhanced. The faster finished materials move from wholesaler to manufacturer, the faster manufacturers can deliver finished goods.
With the world still suffering from the supply chain disruptions of the past few years, it is vital to improve visibility into the supply chain. Improving job scheduling, order delivery, and sourcing may provide incremental benefits, but they add up into a powerful competitive edge for manufacturers.
Some manufacturers hesitate to complete their digital transformation. They wonder what, if any benefits, they may incur from investing in new supply chain automations and other software. The fact remains that any manufacturer not investing in their ability to turn around orders faster and better is going to get left behind by competitors who can and do promise faster, more efficient delivery. Manufacturers cannot afford to be left behind when a competitive edge is theirs simply by implementing supply chain automation.
Mindover Software
Mindover Software is a software reseller with a broad range of accounting, ERP, finance, customer relationship management, and other software products. For more information, please contact us or call 512-990-3994.