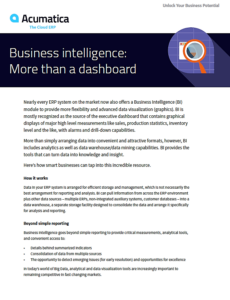 Nearly every ERP system available also offers a Business Intelligence module to provide more flexibility and advanced data visualization.  Business Intelligence is mostly known for being the executive dashboard where you see displays of high-level measurements such as sales, production, inventory levels, and it also has alarms and many ways to drill deeper into the data.
What many people don't know is that Business Intelligence includes analytics and data mining capabilities. Those tools can provide much needed data and insight into your business.
This white paper, Business intelligence: More than a dashboard, can help smart business tap into this incredible resource.
Fill out the form below to access Business intelligence: More than a dashboard and learn more to help your business succeed.