in: Company News, Press Releases, Acumatica
Distribution software consulting company recognized for excellence.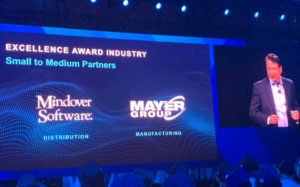 Austin, TX – February 22, 2023 – Mindover Software, a technology consulting firm specializing in the sale, installation, and support of Acumatica, was awarded Acumatica's Distribution Partner of the Year, announced at the Acumatica 2023 Summit.
The Acumatica Summit is the premier event for customers, partners, and industry analysts to collaborate, innovate, and accelerate their knowledge and use of Acumatica Cloud ERP. During the Summit, stand-out partners, developers, and customers are recognized. The Partner Excellence Award recognizes the partners who sold the most Industry Editions in 2023 while also achieving a high customer satisfaction score. Additionally, Acumatica recognized two smaller partners across the four Industry Editions for their excellence. Mindover Software was one of these recipients for the distribution industry.
"This past year has been one of the most challenging for distributors, and thanks to Acumatica and their ERP solutions along with our staff of matchless talent, we helped our clients' overcome challenges and remain competitive," stated Lloyd Smith, President and Director of Operations for Mindover Software. "It was an honor to receive this award that reflects our team's commitment to operational expertise in the distribution industry. Our staff is relentless in the support of using Acumatica in a way that propels our client's goals forward so they can stay ahead of their competition."
Learn more and see all the winners at https://www.acumatica.com/blog/acumatica-cloud-erp-2023-award-winners/.
You can find the press release here: https://www.prweb.com/releases/2023/03/prweb19216926.htm