New Acumatica 2018 Tackles Complex Financial Reporting and Accounting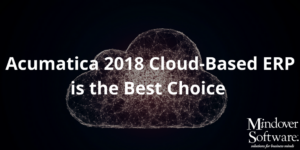 Acumatica 2018 R1 is now available. This release offers additional capabilities in the field service, project accounting, and inventory modules. Usability, mobility, CRM and other platform improvements continue to make Acumatica ERP the premier cloud ERP available.  In addition, this release further enhances its strong functionality in handling complex accounting issues, including inter-company accounting.
Currently, many manufacturing companies further their growth by acquiring or launching subsidiaries. This is great for the bottom line, but can be a headache for accounting to reconcile. Accounts must be reconciled properly to avoid double-counting transactions. If not handled properly, it's a recipe for disaster but that doesn't have to be the case. Using the right manufacturing software—especially when it comes to enterprise resource planning (ERP) solutions—can make all the difference. Software such as award-winning Acumatica offer ERP solutions in one cloud-based application.
If you're facing a mountain of challenges with inter-company accounting with parent companies and subsidiaries, it might be time to look to Acumatica 2018 to handle your complex financial reporting and accounting.
Growing Business, Growing Challenges
All companies strive for growth, but with growth comes challenge. New operations in new markets, acquisitions, and more bring with them ever-increasing levels of complexity. This includes complex accounting functions. Do you keep separate balance sheets for each entity? If so, how do you reconcile them back to the parent company's ledgers?
The answer to these questions may lie in the software chosen to manage your operations, finance, and accounting. Acumatica includes functions such as financial management, distribution management, customer relationship management (CRM), project accounting, manufacturing, field service and more. This powerful cloud-based suite can handle company growth with ease, expanding to add ever-increasing layers of complexity, subsidiaries, and more.
Synchronize Sooner than Later
As you add subsidiaries to your company, waiting to reconcile transactions between the parent company and subsidiaries can cause problems. Both supply chain and administrative areas must be processed promptly so that inventory and cash positions accurately reflect reality. This information is vital for business decisions, not to mention that executives rely heavily on it.
If the systems between the subsidiary and parent company aren't synchronized, you could face some serious issues. First, there's the need to manually reconcile data between the two entities. This takes time and effort which could be better spent elsewhere. Next, there's the risk of mistakes creeping into the data, resulting in inaccurate reports. Business decisions based on inaccurate reports can cause delays, problems, and miscommunication.
These problems can be solved easily with the right manufacturing software ERP. Using cloud-based Acumatica ERP, data synchronizes in real time so you don't have to worry about manual reconciliation. No delays mean that information can be used immediately for better business decisions. With a single financial management system, inventory, cash, accounts payable and receivable are all updated simultaneously.
Have the Right System in Place
Dumping all the relevant data into a spreadsheet and spending hours massaging it isn't an effective use of time. With the right system, your time could be better spent using the data reports to improve the business. If an accounting system captures all the transactions between a parent and subsidiary company, it can significantly impact both the ease and accuracy with which inter-company transactions are reported.
Why You Need Acumatica ERP
For everything from the simplest to the most complex business accounting needs, Acumatica 2018 cloud-based ERP is the best choice. Acumatica provides the most advanced cloud-based accounting and reporting functions, synchronizing data from multiple sites, business units, and more.
Putting Acumatica to use in your manufacturing software bundle is as easy as contacting Mindover Software. For nearly 20 years, Mindover has been providing award-winning software and consulting solutions to small and medium-sized businesses alike. Our consultants span a range of cities and states, offering local support with the resources of a national company. Let us help you align your software solutions today! Contact us online or call us at 512-990-3994.