Put Your ERP in the Cloud and Save for a Rainy Day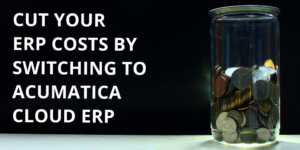 It seems we put everything in the cloud these days: photos, files, and yes, even ERP data. Cloud-based ERP systems have become more prevalent, lately, due to their affordability and accessibility, as well as faster deployment times. Cloud technology also allows companies to use their new ERP straight "out of the box" while eliminating the need for companies to manage their own hardware and software. Accessibility is also a big selling point, with the cloud allowing users to access data from a variety of devices, including computers, tablets, and mobile devices.
Cloud ERP is creating quite a stir through the manufacturing world, opening up many new possibilities. Currently, about 25 percent of small manufacturers use cloud-based software, while 20 percent are looking to expand into cloud software.
Lower Production Costs
Anytime you can lower production costs, you have an opportunity to increase profits, even without raising the prices of your goods. Cloud ERPs such as Acumatica can help manufacturing companies lower their production costs.
Cloud ERPs help lower costs by providing useful data and accurate cost analysis by combining data from various areas of the company into one system and set of reports, affording an easy at-a-glance view of the production activities, inventory status changes, and more that can impact your business.
When you know your inventory status and understand the costs of maintaining that inventory, you can make adjustments to improve inventory management. The results lead to lower costs with improved inventory accuracy and the potential for sustained growth.
Shift IT Funds to Other Projects
How much are you currently spending to maintain your existing information technology systems? If you're like the average manufacturing company, you're probably running several outdated systems and keeping them operational through plenty of hands-on work. That's neither practical nor cost-effective in the long run.
Shifting to Acumatica cloud ERP can allow companies to divert information technology (IT) resources away from propping up the existing IT infrastructure and into more forward-thinking projects. Cloud ERP is updated automatically by the software vendor, so you do not need to worry about loading updates and managing patches. The vendor takes care of all that.
While many companies also worry about security—and rightly so—cloud ERPs tend to be more secure than typical on-site infrastructures. Acumatica provides tight security to safeguard both your own reputations and that of your clients, implementing the latest security methods to safeguard against code injections, viruses, ransomware, and other problems.
Lastly, maintaining on-premises systems to ensure they are working at peak efficiency takes up considerable IT resources. Many cloud ERP vendors provide assurances of up time in their contracts, with some guaranteeing up to 99% up time. That's probably better than you're averaging now.
Cloud ERP can help you save information technology costs as well as divert staff to more productive projects.
Lean Manufacturing with Acumatica Cloud ERP
Acumatica can also help companies adopt a lean manufacturing philosophy. Many companies rely on multiple spreadsheets to run daily operations. With spreadsheets existing in every department, and multiple spreadsheets per project in some cases, managing data turns into a tedious and time-consuming task. Spreadsheets must be printed, tallied by hand, and selected data re-entered into new spreadsheets just to run reports or combine data.
Acumatica shifts the tedious task of data entry into automation, saving considerable time and effort. Once you can see the data, you can scale and shift production into more profitable ventures more quickly.
Acumatica provides users with a view of all customer orders at one time, allowing them to batch production accordingly. This enhancement incorporates lean manufacturing processes and enables more efficient use of materials, equipment, and staff.
Studies have shown that overtime costs can be cut by as much as 60 percent after cloud ERP adoption because of lean manufacturing processes. With better use of time, equipment, and personnel, companies no longer needed to add shifts to accommodate extra orders. This increases profits by lowering costs and increasing production time.
Move to Acumatica Today with Mindover Software
Is it time to see what Acumatica can do for your business? Mindover Software provides business software and solutions to companies of all sizes. We help you select and use the best technology, adapting to the ever-changing demands of industry through new and innovative software products. Contact us today to set up a demonstration.