in: Accpac Stuff
One of the cool new features of Sage Accpac 5.6 is the streamlined Bank Reconciliation screen. The new screen allows you to have more information and drill-down information during the reconciliation process.
After opening the Bank Reconciliation screen you will see the number of tabs has been decreased as well as a new button set by the Bank Entries Not Posted amount. There is also a zoom button beside the Book Balance which will show you how the Book Balance is calculated.
If the button is Active (not grayed out), you can click the button and it will allow you to Post Bank Entries entered into the reconciliation module but not yet posted.
Clicking on the Reconciliation tab shows you all of the bank transactions, withdrawals and deposits with the ability to select which transactions you want to work with plus how you want to sort them. You have the ability to drill down to any transaction. To reconcile an item all you need to do is double click the "Reconciled" column and an X will be placed on the item reconciled. You still have the ability to import the bank transactions provided you can obtain the statement from your bank in the OFX format.
With this streamlined bank reconciliation screen we believe we will see more of our clients using the bank reconciliation process within Sage Accpac.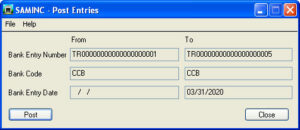 If you have any questions about the Bank Reconciliation process or any other feature of Sage Accpac 5.6, please don't hesitate to call one of our consultants at 512-990-3994.