Sage Accpac 5.6 – Determining Active Modules
Sage Accpac Help is an often ignored resource for users of Sage Accpac, even though it contains lots of potentially helpful information. This blog post will show you how to use Help to determine which modules are installed and active for the company you are logged into within Accpac.
Once you select a company and login to Accpac, click on the Help in the top of the system.

You will notice that Help has numerous options. Since we want to know which modules are active, we need to click on "System Information". Several of the other help topics will be covered in later postings.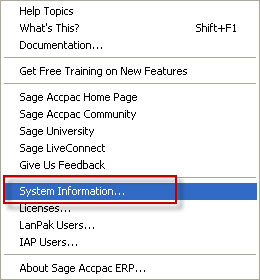 The System Information screen provides us with a wealth of information regarding the Accpac installation. As you can see from the image below, we know which version of System Manager is running and where the programs are installed, as well as the Shared Data Directory. Each software application installed within the Program Directory is listed in the Applications block.
The modules which are Active for the company you are currently accessing in Accpac have a red check-mark beside the application. For example, we can see that US Payroll 5.5 and 5.6 are installed, with the 5.5 module having Product Update 2 installed. However, 5.6 Payroll is active for the company. Further, we can see that the current Payroll Tax Table update UT56E is installed but hasn't been made active for this company yet.
If you spend some time accessing the Help features, I'm sure that you will see how you can get more information from your Sage Accpac installation.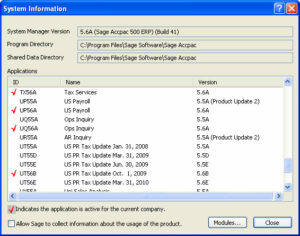 If you have any questions about SAI and how it might provide you with greater insight into your business, please don't hesitate to call one of our consultants at 512-990-3994.