The Future of Financial Reporting Solutions and Processes for Distribution and Manufacturing Companies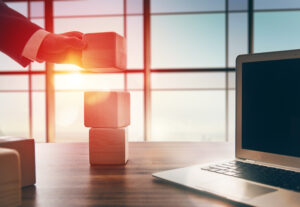 As business software and reporting automation experts, we know most healthy manufacturing and distribution companies wrap up their month with a financial review. At the end of the month, year-to-date numbers are looked at through the multiple paper copies of financial statements created in Excel and possibly displaying charts to review trends and comparisons. Oftentimes, the bulk of this meeting is spent presenting the financials, leaving little time to dive deeper into key metrics that stand out because of major variances or metrics that reveal profit opportunities.
It's easy to find hidden profit opportunities in your reports; you just have to know where to look. Join Mindover Software for our free webinar, How to Find Profit Sources in Your Numbers.
Some of our business partners that specialize in Business Intelligence predict that, in the future, CFOs and controllers will most likely create financial presentations online from within their cloud-based Corporate Performance Management (CPM) system. This process will be organized in a storyboard fashion and allow for easy drill down options to look at granular numbers or supporting reports and dashboards to provide answers.
Companies will also reengineer the review process, itself, so that executives can log into the CPM portal prior to the meeting, review the financials, and enter questions and comments directly into the system to be stored with the metrics for later review and for historical analysis. Because CPM systems in the coming years will automatically alert managers to exceptions and significant variances, there will be no surprises in the monthly review meeting and, instead, the presenter as well as the executives in the meeting can focus their time on the metrics that matter the most and where variances indicate there are issues or opportunities.
The ongoing reporting and analysis that CPM solutions will enable for department heads and any other department contributor performing analytical functions is just as important as efficient, highly focused month-end and quarterly performance meetings with executives. Apart from email alerts when thresholds are reached or major exceptions occur, users will be able to log into the CPM portal at any time for ad-hoc reporting and analysis related to their specific areas of responsibilities. Because your CPM solution will live on top of a well-organized data warehouse, these users will be looking at numbers that are agreed upon by the corporate team, so there is always "one version of the truth," and discussions and decisions can be based on the same facts.
Another aspect of future reporting processes and the reporting capabilities of CPM solutions will be benchmarking. CPM solutions will allow for easy upload of industry averages or external data from public companies in the same industry. This will allow managers to analyze benchmark reports so decision-makers not only look inward at the company's own performance, but they also compare it with external competitors or industry data.
Most companies don't do regular benchmarking because preparing the information is a manual and time-consuming process. This can result in delayed and less than optimal decision-making, because managers might be thinking everything is fine because results are on par or above budget; but, if all the competitors are growing twice as fast, that can become a big problem at a later point and regular benchmarking helps keep an eye on this.
Mindover Software can help you find the exact solution you need to improve financial reporting. Our specialty is finding and implementing the best manufacturing and distribution software solutions to help you manage your business. Contact us today.