in: Company News, Enterprise Resource Planning (ERP)
Modern ERP software has come a long way from the origins of enterprise resource planning systems several decades ago. Today's ERP software can do more, in less time, than companies years ago dreamed of.
If you've been running legacy ERP systems and wonder if you should switch to modern ERP software, we've put together a few handy questions to ask to determine whether it's time to modernize.
5 Questions to Ask – Modern ERP Software
Before investing time and money into the ERP selection process, it's helpful to ask yourself the following questions. These questions, while not exhaustive, will help you think about whether you may need an entirely new ERP system or whether an upgrade or addition of other packages to your base system can meet the need.
Do you find yourself spending too much time with support? If you're on a first name basis with your software service representative or support personnel, it may be time to update or upgrade. Legacy software that struggles to perform basic tasks or that cannot perform tasks that you need is only slowing you down.
Are you uploading data into spreadsheets to make it useful? This is a clear sign that your current reporting isn't adequate. Many companies realize, after spending hours uploading data into spreadsheets to make charts and graphs, that the real issue isn't the need for customization but the fact that their current system cannot handle the basics they need anymore.
Do you need additional tools but will pay a lot to add them? Some ERP systems integrate easily and quickly with third party software. Acumatica, for example, is built with integration in mind and the company welcomes third party applications built to work with their system. But other legacy systems aren't as flexible, and you may find yourself spending a great deal of time and money outsourcing custom coding or reporting to a third-party vendor.
Can you find a vendor for custom coding and support? Another sign that it's time for ERP modernization is the inability to find vendors who can provide custom coding or support. In some instances, systems become so outdated that the programmers who can understand and write the basic scripts that will work with the ERP system are no longer available. That's a clear sign you need modern ERP software.
Are you finding your current system unable to expand to meet busines needs? Lastly, many modern ERP systems are built to be flexible. They can easily and quickly add users and locations to the main system to accommodate rapid growth or expansion. Many legacy systems cannot expand in this fashion. This may be a clear indication that your ERP is hampering growth rather than supporting it if it is unable to expand to meet current business needs.
Shopping for Modern ERP
When shopping for a modern ERP system, you have many choices available to you. Should you purchase on-site, cloud, or hybrid cloud software? Should you purchase an all-in-one package or a base system that can be expanded with business modules as time goes by?
There are many guides to choosing modern ERP software and Mindover Consulting can also aid you in this process through the many resources we've provided on our website. An important consideration for your business is how flexible you need your new ERP system to be. Some companies prefer to manage their systems on-site, and for these firms, on premises software works well. They understand that with on premises software, they will need to purchase the appropriate hardware and have personnel ready to manage, maintain, and monitor their systems.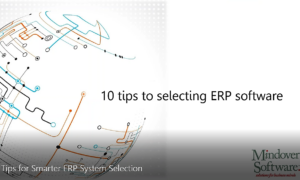 Others prefer the flexibility and real-time updates of cloud-based software—especially companies that have multiple locations or field service—or others who may need to update the system from any location. Warehouse and inventory data can be conveyed almost instantaneously to modern ERP systems if they're cloud based, and this can result in improved customer service, sales, and better inventory management.
There's a lot to consider when shopping for modern ERP. Fortunately, companies today have the options to shop online and to streamline the process. They can add new software to a legacy system or switch to an entirely new system if necessary. With this flexibility, companies can easily find something that fits their needs and budgets.
Are you in the process of choosing a new ERP? Watch our 30-minute webinar, "10 Tips for Smarter ERP Selection."