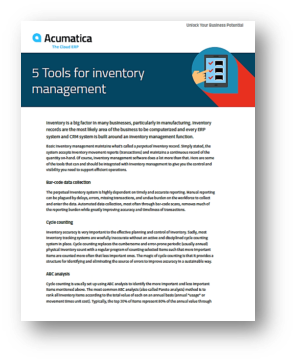 Inventory management is a big part of many businesses and an especially big part of any manufacturing business. Every ERP and CRM system is built around an inventory management function.
Basic inventory management maintains a perpetual inventory record which accepts inventory movement records and maintains a continuous record of quantity on-hand. Inventory management software can do a lot more than that. This white paper, 5 Tools for Inventory Management, shows you some of the tools that can and should be integrated with your inventory management system to support efficient operations. Topics discussed are:
Barcode data collection
Cycle counting
ABC analysis
Integrated planning and execution
Lot tracking and traceability
Fill out the form below to download 5 Tools for Inventory Management.