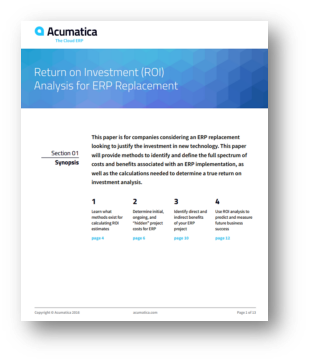 Most companies will do at least a basic cost and benefit analysis before making a significant investment for new production equipment, plant expansion, or computers/software to identify how the investment will pay for itself.
Download Return on Investment (ROI) Analysis for ERP Replacement to learn methods to identify and define the full spectrum of costs and benefits associated with an ERP implementation, as well as the calculations needed to determine a true return on investment analysis.
This white paper includes the following sections to assist you in putting together your own analysis:
The Importance of Return on Investment Analysis
ROI Methodology: How to Calculate Return on Investment
Determining Project Costs for ERP Implementation
Valuing the Direct and Indirect Benefits of an ERP Project
Use ROI Analysis to Predict and Measure Future Business Success
Fill out the form below to download the whitepaper now.