in: Company News, Acumatica
On April 1, 2023, Acumatica released its first update for the year. This update includes exciting new features in three main areas: usability, business intelligence, and functionality.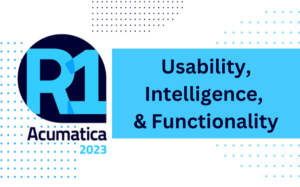 Acumatica 2023 R1 was designed with customers in mind. In fact, every Acumatica release goes through an intensive development process, being shaped by customer feedback each step of the way. Acumatica says that each release is developed through "customer-driven innovation," guided by customer input obtained from focus groups, customer interviews, online voting, and more. The company also analyzes how their customers are using and adapting the ERP and considers how to adapt the product to their customers' goals.
Acumatica is looking for feedback on 2023 R1, as well, as they introduce experimental and controlled release features. Based on the feedback they receive on these features, they will make adjustments to them as needed. By getting feedback not just on the existing product but the newest release as well, Acumatica can understand whether their updates are truly benefiting customers.
Acumatica is a great choice for a modern, flexible ERP. Let's take a closer look at 2023 R1 and the three main areas where new features have been introduced.
Usability: Streamlined but Powerful
One of the main priorities for Acumatica 2023 R1 is usability. ERPs are sometimes seen as complicated, unintuitive software programs, but Acumatica proves that stereotype wrong. Through streamlined processes and a simple user interface, Acumatica allows users to focus on innovation and value-added work, not navigating an opaque system or technical difficulties.
2023 R1 contains many premade panels and dashboards based on how users often interact with the ERP. Now you don't have to fiddle with settings for hours before getting your dashboard the way you like it! In addition, this release includes an overhaul of the "help" system: help files are easier to find, error checking has been improved, and error messages have been expanded and clarified.
Other usability updates include the following:
Users can now adjust the system's default logout time in their preferences, cutting down on unwanted automatic logouts.
Preview mode now allows you to view recognized documents in a side panel, allowing you to continue your work in one place while viewing data from another.
The release highlights and provides information about new features when a user's mouse hovers over them.
You can select a user to receive another user's approval requests over a specified time period, thus allowing for greater flexibility in the approval process.
Fixed assets and GL periods can now be synchronized, which will improve the accuracy of your internal controls and reporting by revealing errors, duplications, or omissions.
Premade opportunity summary reports allow you to track and analyze your pipeline's performance and health—while also finding growth opportunities.
Tax zones are now automatically assigned based on the country, state, and postal code of entered addresses.
You can now improve business event transparency by sending event activity notifications to users who have previously "owned" the event.
If your business operates in Canada, you can now review history and surfacing remittance reports in Acumatica before submitting a T5018 form to the CRA.
Because Acumatica is designed through customer-driven innovation, usability is one of the biggest priorities in each update. 2023 R1 is no different!
Business Intelligence: Automation and Integration
In addition to the many usability upgrades, Acumatica 2023 R1 includes upgrades behind the scenes to the ERP's open architecture. These upgrades enable rapid integrations with third-party solutions, allowing you to extend applications through machine learning and artificial intelligence.
In today's global market, Acumatica provides the intelligent solutions you need to succeed. 2023 R1 has strengthened this side of Acumatica: You can now retrieve values in any language through OData.
In addition to global operations, Acumatica enhances your day-to-day processes through automation and business intelligence. Here are some highlights:
In keeping with the usability updates to business events, these events can now enable additional workflow capabilities and automated processes.
The new Prepare Payments form allows you to save payment processing time and effort through easily creating batch payments.
Users can streamline AP processes by specifying accounts for each vendor as well as automatically exporting ACH payments in the correct file format.
Acumatica's Gmail Integration allows you to send emails and share files with both internal and external contacts without leaving the ERP.
These updates build upon Acumatica's intelligent platform to create an even better software solution that grows with you through machine learning.
Functionality: Solutions for Specific Industries
Although Acumatica's ERP is designed to function with nearly any business, they also develop targeted functionality to meet the needs of specific industries and sectors. Acumatica's Industry Editions provide extra functionality for manufacturing, distribution, retail-commerce, and construction businesses. 2023 R1 has new benefits for customers in all these industries.
Manufacturers
Users now have access to sales, purchasing, inventory, and manufacturing information through side panels on data entry screens (including Bills of Materials, Sales Quotes, Material Requirements Planning, Scheduling, Production Orders, and Sales Opportunities).
You can now enter material, labor, move, and disassembly information directly from Production Order Entry, streamlining reporting and correcting previously entered transactions.
Contractors and Service Organizations
New automated budget quantity calculations allow you to monitor costs, revenues, and profits as well as track how they impact each of your projects.
Through the Acumatica mobile app, your remote workers can now immediately access daily field reports including drawing logs, annotations, submittals, and progress worksheet activities.
Joint payee and lien waiver processes have been simplified through automated creation of compliance documents and automated maximum available payment balances.
Report designs and filters have been updated and unified for improved readability.
Distributors, Retailers, and Commerce Merchants
You can now access counter sales, in-person returns, and will-call orders from a single screen.
Acumatica's integrations with Shopify and Amazon have been improved. You can now see inventory levels across your Merchant-Fulfilled Network websites on Amazon by integrating Acumatica's data flows.
Simplified matrix item creation means you can easily define variant characteristics for each object that you generate from the template, which translates into increased flexibility of your pricing tactics per customer and/or per item variant.
Utilize 18 new pre-defined sales, purchasing, and inventory security roles to standardize and expedite system and data access. Pre-defined roles include salesclerks, buyers, sales managers, shippers, receivers, and more.
Your ERP should be tailored to your business's unique needs. 2023 R1 gives you more tools to adjust Acumatica to best help you succeed.
Designed for the Present and the Future
Acumatica's newest release is designed to address the most pressing challenges that customers face in today's challenging economic environment. But Acumatica also focuses on the future, providing as much flexibility as possible in order to allow your business to grow its profits, markets, and vision. Acumatica will continue to innovate and improve in order to support your company at every step of its journey.
Want to Implement or Customize Acumatica? We Can Help!
Mindover Software is an Acumatica Gold Certified Partner. With our extensive experience in designing and supporting Acumatica, we can help you meet and exceed your business goals. Contact us today to learn how.