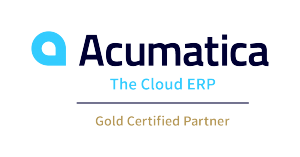 LET YOUR COMPANY SOAR WITH ACUMATICA CLOUD ERP
Acumatica is a complete and adaptable cloud based integrated accounting, CRM and business management suite, offering the deep functionality finance executives need to automate and streamline financials and project accounting. Ideal for small and mid-sized businesses, Acumatica Cloud ERP's browser-based software offers many choices in deployment, licensing, integration, and customization—making it easy and affordable to implement.
Mindover Software is an Acumatica Gold Certified Partner. Combining our knowledge of Acumatica ERP and our extensive experience in designing and supporting industry software, we can help you meet and exceed your business goals.
---
BRINGING YOU THE BEST OF THE CLOUD
Acumatica Cloud ERP is the most easy-to-use and powerful cloud-based ERP solution available for small and mid-sized businesses. Committed to constant improvement with usability in mind, Acumatica provides users with access to robust functionality that is still straightforward and simple to use.
Acumatica Demo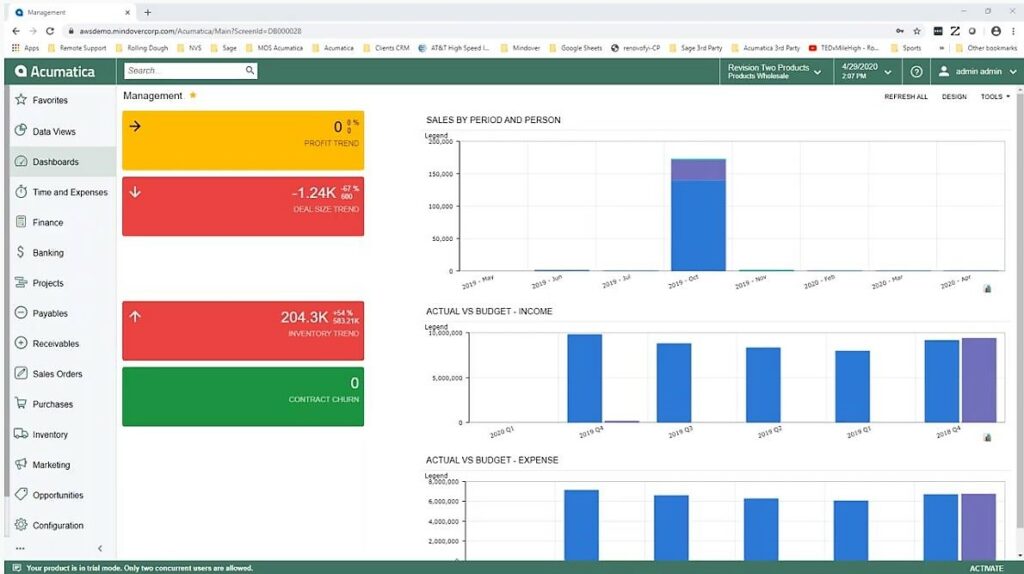 See Acumatica ERP in action with these detailed Mindover Software videos. Start with the Acumatica General Overview, then learn more about Acumatica Accounts Receivable, Accounts Payable, General Ledger, Bank, and Inventory.
---
Acumatica Benefits
Easy to Use
Acumatica contains intuitive controls and customizable dashboards, making it easy to use and delivering desktop-like performance right out of the browser. Anywhere access from any device capable of connecting to the Internet for an unlimited number of users means you can involve everyone you need in your business management.
Payment Flexibility
With Acumatica, you can choose how you want to pay: by purchasing a subscription or a license. The price is for an unlimited number of users, allowing you to grow at your own pace.
Deployment Choice
Acumatica Cloud ERP offers a variety of deployment options: SaaS, On-Premises, or Hosted. Users can switch between the options easily as the needs of your business change. No matter what deployment you use, the solution is still the same powerful Cloud ERP software solution.
Customizable
You can customize Acumatica to fit your requirements or integrated third-party add-ons to extend Acumatica's capabilities.
---
Acumatica Suites
All Acumatica application suites are web-based, integrate fully with one another, and work on a centralized database. The following suites can be purchased individually or combined:
---
Industries
Acumatica software can be used in many different industries. Integrated ERP with industry-specific apps provide best-in-class solutions for company-wide automation and information.
Mindover Software has extensive experience in distribution, make-to-order manufacturing, home healthcare, and veterinary services. Learn more by reading our customer success stories.
---
Acumatica Implementation and Pricing
Acumatica pricing is designed to make it easy for growing companies to get started with best-in-class business ERP software. You only pay for the resources you use. Your cost will be based on three factors:
What applications do you need? Financial Management is the core of the Acumatica solution. You can add other applications such as the Distribution Edition, Customer Management, Manufacturing and more as you need them.
What type of license will work for your business? We offer several options for software licensing. All deployment models allow for unlimited users.

SaaS Subscription: Pay an annual subscription fee. In addition, installation and maintenance will be handled by a full-time IT organization.
Private Cloud Subscription: Pay an annual fee for Acumatica software and deploy on your premises or at your preferred hosting provider.
Private Perpetual License: Pay a one-time cost for the perpetual license up front along with a recurring annual maintenance fee and deploy the software on your premises or at your preferred hosting provider.

What is your expected consumption? With Acumatica you only pay for the resources your use. You can start with what you need for the transaction volume you expect and add resource levels and data storage as you grow.
Mindover Software can explain the differences in cost, help you make the best choice for your business, and provide proper Acumatica implementation.
---
Acumatica Resources
Explore the benefits of moving your ERP software to the Cloud and see for yourself how Acumatica can help you shape your business for success.
Acumatica White Papers and Analyst Reports:
Is your business ready to move to the Cloud? Find out if it's time for you to switch to Acumatica's Cloud ERP solution.
Acumatica Tips and Tricks:
Mindover Software continually adds short tips and tricks videos to help you get the most out of your Acumatica software. Some of the videos include:
How to Close Fiscal Year or Period
How to Add Multiple Shipments into One Invoice
How to Process PO Receipts and Add Costs
How to Apply Prepayments to Invoices
Check out our Acumatica Resources page to see all of the videos that are available.
Acumatica Videos:
---
The Total Economic Impact™ Of Acumatica