in: Acumatica, Enterprise Resource Planning (ERP), Company News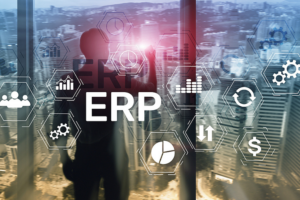 The right cloud ERP solution can mean increased productivity, cost savings, and competitive advantage.
Challenges like labor shortages, ongoing supply chain issues, and inflation mean many businesses today are apprehensive about investing their money. Shrinking budgets and cutting back on investing in infrastructure might seem prudent. However, the reality is that those who eschew strategic technology investments will likely find growth is limited and their earnings potential is reduced.
This thinking is counterproductive. The right ERP system can actually have a positive impact on your bottom line.
Cloud-based ERP software can be a game-changer when its users extract value from its features, functionality, and insights. The right ERP system can introduce efficiency, reduce labor costs, and help labor focus on tasks that generate revenue.
Another selling point is that nearly any business of any size in any industry can reap the rewards. They're useful for any business—including yours—that wants to reduce costs in a changing climate.
Here, we look at four ways the right cloud ERP solution will help you save money.
The Top 4 Ways Cloud ERP Can Save Your Business Money
Here's how ERP can help your organization save money.
1. Do More with Less
One of the more challenging aspects of running a business is getting the job done on time and on budget. A technology solution like a cloud ERP solution can help with that goal.
An ERP system can help users spend less time and energy on tasks like data entry and reporting. Plus, it eliminates manual workarounds and clerical errors. Such a solution can also help you tighten up your order-to-cash cycle, get deliveries to customers on time, accurately track inventory, and optimize storage and loss costs.
In short, automation and cloud ERP solutions can be a competitive advantage.
2. Reduce Labor Costs
Attracting, retaining, and supporting labor is critical in a marketplace still in flux about pandemic-fueled changes. As of July 2023, there were 9.8 million job openings and 5.9 million unemployed workers. This makes it hard for employers trying to find and keep talent.
Fortunately, the right cloud ERP solution can help you lower labor costs. For example, when certain tasks and processes are automated, you don't need as many people in the mix. This can lead to significant payroll savings.
Another example? Training employees becomes simple when they only have to learn how to interact with a single, intuitive system instead of multiple platforms.
ERP systems also improve production processes, which, in turn, increases employee efficiency. Workers can produce more units. The outcome is a reduction in both labor costs per unit and total labor costs.
3. Strategically use IT Resources
Your IT department is an important player in helping your company stay relevant. An IT department helps companies of all sizes perform their jobs better. IT departments are responsible for managing the technology that keeps businesses running smoothly. Their work touches on everything from computers and servers to networks and data storage. In addition to keeping things running smoothly, IT departments also help reduce lost productivity and promote data security.
This is the case for organizations that rely on multiple business management solutions and/or an on-premises ERP system. However, if you choose to implement a cloud ERP solution, your IT department's role will evolve in response.
By optimizing resources with cloud ERP, you will:
Reduce IT maintenance tasks, since the ERP provider maintains, updates, and secures the software.
Remove the IT department's system integration responsibilities, since a cloud-based ERP solution consolidates business functions into one platform, removing or reducing your reliance on multiple systems.
Make vendor support an important but ancillary IT duty, since ERP providers offer technical support themselves.
All of this contributes to a positive organizational culture. The in-house IT team is less bogged down with requests, which allows them to focus on innovation instead of help desk tasks. Cloud ERP and IT resource management are a winning combination.
4. Lower Costs of Goods Sold
Your goods are priced according to labor costs. ERP software reduces transaction costs through improved inventory management, efficient procurement, and optimized production processes.
ERP systems can help you make better decisions. Real-time visibility into inventory levels means more accurate forecasts. At the same time, you can avoid overproduction or waste, and reduce the cost of goods sold.
They also take the complexity out of procurement processes, so you can find and secure the best prices from suppliers and lower the cost of raw materials.
Generally speaking, ERP systems optimize production schedules, reduce downtime, and improve equipment efficiency.
Cloud ERP as the Future of Business Technology
Implementing the right ERP system can provide a robust foundation conducive to growth. But what makes an ERP system the right one?
Customers and industry experts alike agree that usability and functionality are key. You should know that Acumatica is highly rated for its powerful ERP usability and robust functionality. This sentiment only strengthens our resolve to deliver a cloud ERP product that meets and exceeds our customers' highest expectations.
Acumatica also has an unlimited user licensing model, allowing users to:
Operate with unlimited users at one low price (based on their usage requirements).
Lower ERP implementation costs.
Enjoy unlimited potential for growth.
Make the investment in the right solution and tackle old problems in new ways. Explore Acumatica Cloud ERP and unlock powerful business benefits and cost savings. Contact us today to learn more about how our system can help you level up.