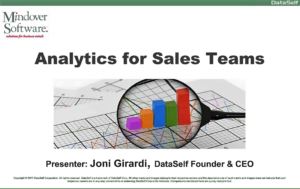 Customer relationships and pricing are no longer good enough in today's competitive marketplace. The more educated your sales team is about the options for your customer, the more effective they become.
Join Mindover Software and Data Self in this recorded webinar, "Analytics for Sales Teams: How to Make Your Sales Team's Customer Interactions More Educated, Targeted and Efficient," to learn the analytics that will empower your sales teams.
In this webinar, we talk about the role data plays for Sales Managers and Sales Reps. Specifically, we review:
Key metrics for effective sales management
Three powerful sales metrics for your sales teams
How to get your sales teams to use data more effectively
How to identify your strongest sales reps
About Data Self:
DataSelf provides best-of-breed and easy-to-use analytics and business intelligence solutions for medium-sized businesses (SMB). DataSelf's solutions have grown out of more than 13 years of experience providing best-practice analytics, reporting and ultralight data warehousing solutions.