in: Company News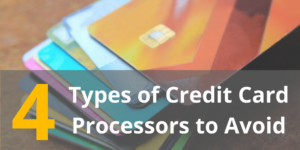 Finding an affordable and trustworthy credit card processor can be stressful enough to cause headaches for any business owner. While reputable providers exist, it takes some digging to separate the real from the fake. Here are 4 types of credit card processors to avoid and what qualities to look for instead.
The Fee Fanatic
The Fee Fanatic does not stock transparency in their daily inventory. Their chief business plan revolves solely around financial profit, and they'll weasel their way around your pocketbook to earn revenue in any way possible. Secret fees will begin popping out of the woodwork and your monthly processing statements will suddenly land your business in the red. The prices you originally agreed upon become increasingly blurred. You begin scratching your head in confusion and wonder how to balance your books for good.
The alternative:
To secure the best rates for your business, a processor should be transparent with nothing to hide. Get a detailed quote and find out exactly how much you'll pay in processing fees each month. Ask them for references and talk to current customers. Find out if they are happy and make sure you're getting the lowest prices possible. Ultimately, there should be no hidden fees and no surprises.
The Contract Crusader
The Contract Crusader takes legal documents to a completely new level. They won't hesitate to lock you into a contract and throw away the key. They are insecure and cannot freely stand behind their services.  A contract feeds their ego and gives them the illusion of control. They rule with an iron fist and arrogantly stand behind their lackluster services, defending these inaccuracies with the cover of a contract. They know they can hardly retain customers on merit alone, instead choosing to confine them into business with brute legal force.
The alternative:
A processor should be transparent with nothing to hide. Be cautious of early termination fees. Look for a processor that is confident in their ability to provide exceptional and affordable services without having to lock customers into a binding contract.
The Data Exposer
The Data Exposer is very dangerous. They fail to provide proper payment security for sensitive credit card information and put customer data at severe risk for fraud. They do not offer PCI compliant solutions and do not utilize the latest payment technology to protect sensitive payment data. Their lack of security knowledge endangers both themselves and their customers.
The alternative:
Find a processor that takes security seriously. They should be PCI compliant and store sensitive credit card information off-site in a cloud-based server to eliminate security risks and liabilities. Proper payment security utilizes both encryption and tokenization technology to ensure that original customer information is never used for future transactions.
The Support Outsourcer
The Support Outsourcer doesn't see their responsibility to customers outside of processing payments. Should there be a question, issue, or concern, they're usually nowhere to be found. Their customer service gets left in the dust and rerouted to a distant source, albeit an often impatient and uneducated one. Sometimes you'd be hard-pressed to get any support at all. When dealing with payment processing software, the Support Outsourcer is a less than ideal candidate.
The alternative:
Look for a processor that offers free, 24/7 in-house customer support. Avoid the middle-man and get straight to the source with an in-house customer support team. You'll have the privilege of speaking to a live representative who will be able to process your inquiries and quickly resolve any issues with your services. You should also know your relationship manager and be able to contact them directly with any questions regarding your account.
Ultimate Solution: The All-In-One Payment Processor
Obtaining reliable credit card processing doesn't have to be like finding a needle in a haystack. Now that we've narrowed down the playing field, let's focus on the positives.
The All-In-One Payment Processor bundles the most useful and cost-effective features into one convenient package. They provide integrations that allow you to process payments directly within existing ERP and accounting software. They are the payment processor, payment gateway, and software developer.
Make sure to find a processor that provides flat rate pricing to guarantee the same low monthly rate for any type of credit card, making it easy to see exactly how much you'll pay in processing fees each month. Look for a processor that provides free in-house customer support and does not charge early termination fees.
Find a processor that is PCI compliant and utilizes tokenization and encryption technology to ensure that credit card information is being protected throughout each stage of the transaction process. This minimizes security risks and will protect your business from hefty fines.
Use these tools to weed out the unworthy payment processors and find an all-in-one provider that will allow your business to flourish.
Guest Blog provided by Century Business Solutions