How to Develop Actionable Distribution and Business KPIs for Optimal Inventor, Agile Operations, and Increased Sales
How are wholesalers supposed to add value while fending off larger competitors, growing profits, and managing daily challenges? Distribution metrics help. Distribution metrics provide a clear picture and a single source of truth to what's happening in every corner of your business.
This eBook explains the importance of tracking key performance indicators (KPIs), different metric types, and common mistakes made by wholesale distribution executives. Learn the most important metrics to monitor for continuous improvement and how to use them to transform your organization.
In this eBook, you will learn the following:
How Metrics Improve Distribution Operations
How to Avoid Common Metrics Mistakes
Different Metric Types
Strategic Distribution Metrics
How to Align Strategic Corporate Goals with Departmental Metrics
Technology for Improved Metrics Management
How to Execute on Actionable Business Insights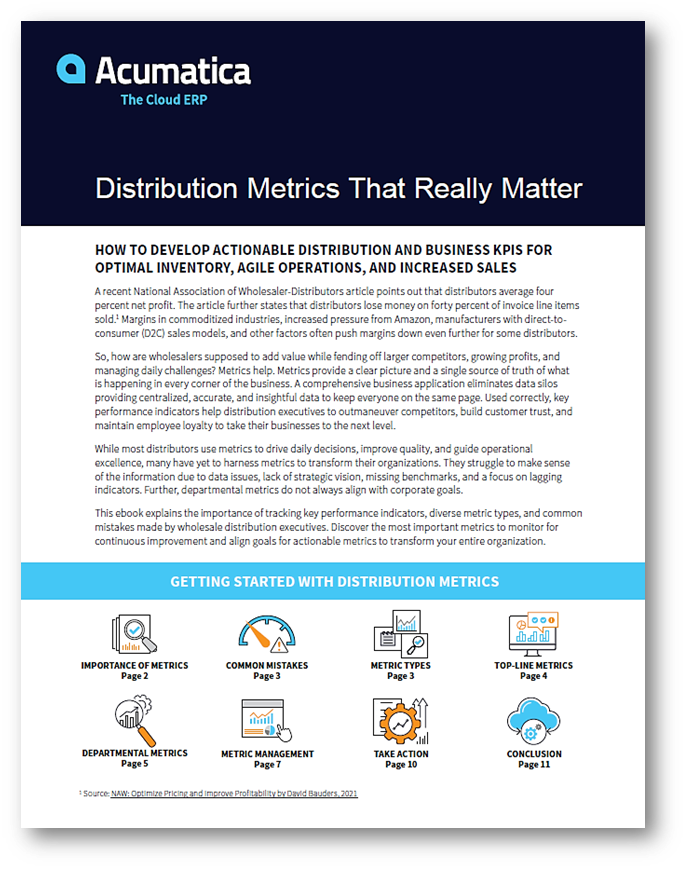 Get the eBook
We take your privacy seriously and will not share your information with anyone.
What our customers have to say about working with Mindover Software
Mays Home Healthcare: "When you're dealing with 25 entities and over 10,000 transactions a month, things can get messy. Mindover Software has been instrumental in identifying the chain of commands within our system. They have a deep understanding of not only the technology but our business processes which makes them a valuable asset for our company." – Tim Hernandez, CFO, Mays Housecall Home Health Group
Nebraska Vet Services: "The team at Mindover Software is great! They are friendly, very quick to respond to questions or concerns, and you don't feel like just another customer. You feel like they are on your team, and they're helping your business be the best it can be. I am always amazed at how quickly they respond…We are constantly changing and expanding so new requirements to the system will be inevitable. Thank goodness Mindover Software knows how to roll with the punches." – Tana Jacobson, Office Manager, Nebraska Vet Services
Bethany Home Healthcare: "With our ERP system and Mindover Software's help, we cut payroll costs down by almost 200%! This made a huge impact on our operating expenses and overall efficiency!" – Chantel Wandick, Senior Financial Analyst, Bethany Home Healthcare