in: Company News, Acumatica
ERP users eagerly look forward to each Acumatica new release, and Acumatica 2022 R2 was worth the wait. The September 2022 release update of Acumatica true cloud ERP ensures it remains the top choice of cloud ERP for manufacturing, construction, and many other industries.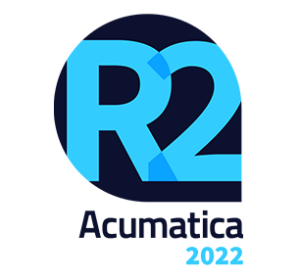 Three themes emerge when examining the specifics of Acumatica 2022 R2:
Improved usability
Enhanced features for global sales
Better ability to target micro verticals
These enhancements follow along with general business trends developing around the world as we enter the end of 2022. Businesses continue to struggle against labor shortages and high inflation. With the right ERP system that facilitates usability, global sales, and targeting deeper into various verticals, companies are well-positioned to maximize profits.
Enhancements to Acumatica 2022 R2: UX Design
Acumatica has always received high praise for its usability. In fact, G2 ranked Acumatica first for usability, and the company takes great pains to ensure the system remains adaptable to the myriad ways in which companies use it. For example, Acumatica continues to support customized dashboards that enhance the usability by providing system users with precisely the data views they need rather than forcing everyone into a "one size fits all" model.
Acumatica 2022 R2 offers multiple usability improvements which continues to keep it ahead of other cloud ERP systems.
Automated mobile signature capture which can speed up the efficiency of workflows. Acumatica can automatically affix an electronic signature to the correct invoice or sales order.
Better mobile interface that makes it simple to find what you need. The mobile interface mirrors the user's desktop interface, so you can find things easily and quickly. You can also hide widgets, configure screens, and hide widgets. These may seem like minor details, but they can drastically improve efficiency daily.
Better color coding, so you can use color as a method of organizing information.
Immediate help through clickable wiki files. Tap the fields or hover your cursor over the icons for intelligent tooltips and the wiki opens with the tip
Enhancements and improvements to contract-based REST APIs for software integrations at scale.
Selling Without Borders
Few companies (especially manufacturers) limit themselves to selling within a specific geographic territory. You almost can't compete if you limit your reach globally. However, few accounting, finance, or ERP systems can easily accommodate the complexities of cross-border sales. Tax estimation, for example, is extremely complex just within the United States, with each state and sometimes cities requiring vendors to collect specific taxes. Add to that country-specific tax laws and multiply this complexity by the number of countries in which you do business, and you can quickly see how challenging it is for the average system to support global sales.
Acumatica 2022 R2 offers enhancements to help you calculate taxes across multiple tax zones with ease. You can also add taxes to orders and invoices. Other feature enhancements to support cross-border sales include:
Canada-specific features at the company level to simplify setup, reporting, and management of companies with legal entities in multiple countries
Calculating taxes automatically through assigned tax zones for new sales orders and invoices, based on country, state, and zip code.
Order tracking through Shopify, especially tracking of omnichannel orders
Instant access through the system to third party carriers and better order tracking
It's All About Vertical Markets
The buzzword in many industries these days is "vertical" —vertical markets, vertical niches. Instead of being all things to all people, businesses are approaching verticals as well as micro verticals to increase sales.
Acumatica 2022 R2 makes it easier to target such micro verticals with the following feature enhancements:
Improvements to the inventory management functions
The ability to define cost centers in inventory and improve storage, inbound, and outbound material handling.
Manufacturing-specific improvements:

Ability to create or modify multi-level BOMs with drag and drop (or copy and paste) features from the interactive Engineering workbench.

Improved collection of shop floor data and job cost accuracy

Multi job clock-in and clock-out activities

Side panels that give users direct access to multiple manufacturing and engineering screens without leaving the main data-entry screen

Balance supply and demand with MRP for planned inbound and outbound transfer orders across warehouse locations.

Contractors and service companies:

Improved efficiency in scheduling field service, such as by required skills

Better, simplified service expense entry
Acumatica remains an exceptional true-cloud ERP. Its biannual enhancement releases always meet and exceed customer expectations, and Acumatica 2022 R2 is no exception.
Mindover Software
Mindover Software is a software reseller with a broad range of accounting, ERP, finance, customer relationship management, and other software products, including Acumatica software. For more information about Acumatica or other software needs, please contact us or call 512-990-3994.