in: Company News, Enterprise Resource Planning (ERP), e-Commerce Integration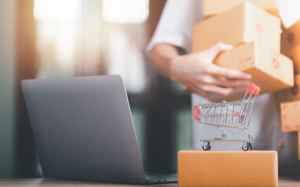 It is time for your business to investigate ERP e-commerce integration if you haven't yet reaped the benefits.
E-commerce has been hot for a long time and shows no signs of slowing. For example, over 2 billion people purchased goods or services online in 2020, and online ordering has become a standard part of everyday life and business. It is vital that all your business platforms are connected to provide the best service to your business customers and maximize your profitability and efficiency.
Reasons to Embrace ERP E-Commerce Integration
Your e-commerce portal is the system that connects you with your customers. Your customers can see products and prices, place orders, and (depending on your system) manage their accounts there.
ERP systems, on the other hand, handle your company's "back end" data. Accounting, finance, operations, marketing, and inventory control data flow through your ERP system. Therefore, integrating the e-commerce platform's data with the ERP makes sense. Keeping all areas of the company in sync through ERP e-commerce integration ensures a 360-degree view of data.
5 Benefits of ERP E-commerce Integration
When we examine ERP e-commerce integration granularly, there are five key advantages.
Manage Multichannel Sales and Inventory
Multichannel sales and inventory are easier to manage with integrated e-commerce and ERP. Real-time stock counts and inventory information can be derived from sales data flowing through the ERP and synchronized with inventory data. You can reorder low stock, manage customer expectations, and more across multiple sales channels, including call centers, e-commerce, and field sales.
Reducing Returns and Tracking Items
Multiple disparate systems may make it difficult to detect a consistent pattern of returns. The ERP integration allows items and returns to be tracked throughout the entire system. Accounting can issue refunds, inventory can be added back into the warehouse, and problematic batches or products can be identified and returned.
Improved Order Accuracy
It is easy to make mistakes when entering data manually. Call center operators may transpose digits by mistake, resulting in incorrect pricing. Data entry errors can cost your business hundreds or thousands of dollars monthly. Integrating ERP with e-commerce improves order accuracy.
Enhanced Business Intelligence
Through the ERP dashboard, managers have both a broad overview of the business as well as the ability to drill down into specific areas of interest. Once the two platforms are integrated, ERP offers excellent business intelligence data that is enhanced by e-commerce information. The ability to make data-driven decisions is also enhanced by reports that utilize both data sets.
Increased Customer Satisfaction
Customers find it frustrating when call center personnel are unable to access all their data. Having an e-commerce system separate from your ERP solution will require your customer service agents to search for information that could be at their fingertips. The ERP system can also push information to the e-commerce platform, such as inventory levels, to provide customers with the most current information.
It's Time for ERP E-commerce Integration
ERP e-commerce integration can help companies gain valuable insights into how they can improve their businesses by taking advantage of billions of dollars spent on e-commerce each year. We can help you integrate ERP e-commerce with your business. Contact us today.