in: Manufacturing Solutions, Company News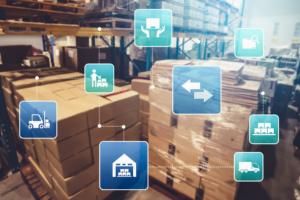 The phrase "supply chain" has been in the vernacular since the mid-1990s. This was a time in modern history when conditions were ripe for companies to expand into international markets. The internet world was gaining footing and telecommunications was booming. These changes had ripple effects—the business world was upended. No longer was a single manufacturer responsible for performing most of the activities involved in bringing a product to market. The landscape was forever changed.
During the pandemic, the supply chains that had previously been robust were found to be fragile. The concepts behind globalization are also now up for debate. Some experts believe relying on imports and foreign suppliers is imprudent. This has led to the resurgence of supply chain sovereignty.
What is Supply Chain Sovereignty?
Supply chain sovereignty refers to an organization's ability to maintain control over its supply chain and minimize dependence on external suppliers. It places a focus on managing critical aspects of the supply chain, such as sourcing of raw materials, manufacturing processes, and distribution channels in-house or using trusted partners.
The idea behind supply chain sovereignty is that companies maintain greater control over their supply chain. This landscape reduces the risk of disruptions, improves operational efficiency, protects intellectual property, and ensures greater flexibility in responding to changing market conditions and customer demands.
Changing Times
While desirable, supply chain sovereignty is not easy to achieve, especially for large and complex supply networks across multiple geographies and involving numerous suppliers.
That said, significant investment is required to:
develop internal capabilities and infrastructure,
establish strategic partnerships with key suppliers,
and implement risk management processes.
Some industries have limited the number of suppliers in some regions, but many organizations still employ best-case scenarios without creating contingency plans. That said, companies must acknowledge and anticipate scenarios when variability in lead times, input costs, and other factors enter the equation.
Many entities are failing to manage their second and third-tier suppliers. Not being thorough can lead to significant unplanned costs. The old supply chains relied on the fact that manufacturers trusted suppliers' lead times, costs, and quality. The last three years have served as a cautionary tale on this front.
What You Can Do
One argument is that cost and efficiency should no longer be the main drivers in supply chain sovereignty.
Conversely, consider the following options when evaluating the supply chain:
Consider whether closer and/or more reliable suppliers may be used. Review the product and service portfolio to identify how the bill of materials and other factors may be changed to accomplish this goal.
Is it possible that parts could be more quickly and easily replaced or serviced in-house? Or by trusted local partners? These are important questions to keep in mind.
Can you open a satellite manufacturing plant closer to your end customers? This step would geographically position you closer to customers, ensure a faster response to their changing needs, lower your logistics costs, and cut tariffs.
Revise your sourcing policies to focus more on reliable delivery rather than on cost alone. Focus on developing collaborative partnerships where suppliers are motivated to innovate and offer input to improve product design and production, instead of acting as a passive party.
You know that ERP systems are great for analytics and decision-making capabilities. Take it a step further and seek greater visibility and more detailed monitoring of the supply chain. Rely on your ERP for cross-functional decision-making. For instance, procurement, finance, and the supply chain can and should work together.
Prioritize traceability of suppliers' products down to the lowest detail to avoid data silos. At the same time, prioritize the analysis of supplier compliance, Key Performance Indicators (KPIs), and risks.
Next Steps
No company can completely depend on a local supply chain. This is not feasible as things stand in 2023. The cost to source all raw materials and products locally is too high, for one. Technology can help but more resilient supply chains aren't built overnight. Trust is a key ingredient in forming long-term, mutually beneficial partnerships with local suppliers.