in: Company News, Business Intelligence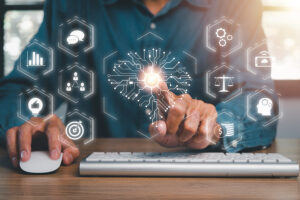 Over the past few years, Business Intelligence (BI) has become extremely popular. As distributors continue to realize the benefits of using data to improve business processes, that popularity is only going to increase.
Contact Mindover Software online or at (512) 990-3994 to learn more about your options for improving company efficiency built specifically for your distribution or manufacturing business software.
Business intelligence offers numerous benefits to businesses, including eliminating manual data entry and reporting processes, and it allows businesses to identify and improve warehouse inefficiencies.
In addition to this, BI makes decision making much faster and easier, and it lets businesses deploy their workforce more efficiently. Finally, it empowers companies to improve businesses processes and boost IT efficiency.
Empower Functional Teams
Distributor's often focus on their operations to improve overall efficiency and productivity. According to a CIO Magazine poll, sixty-five percent of IT leaders reported that business intelligence served as a catalyst for change in their organization over the previous year.
To improve efficiencies, companies need to examine all functional teams and measure how those teams perform against key metrics. Business intelligence dashboards that display key performance indicators (KPIs) provide that kind of insight for organizations. They even provide that information in real time, with BI dashboards reflecting and measuring progress even as teams actively make changes.
One example of this might be a team assigned to the task of improving cash flow. Such a team could configure a KPI for the day's sales outstanding (DSO). They could then measure the existing DSO, institute process changes—such as upgrading to paperless invoices—and then tracking the effects on the KPI of this effort.
Improve Decision-Making
In many organizations, it can be difficult for managers or employees to make fully-informed business decisions because not enough information is available. Often, that information is stored in many different systems, and pulling that information together and correlating or analyzing them is very difficult.
Attempting to pull this information from different systems or having a programmer write software to query various legacy databases usually takes so much time that, by the time the effort is finished, the reports are already out of date and useless.
Business intelligence systems allow organizations to consolidate data from many different systems across the company and provide tools that non-programmer business users can use to analyze that data and make better-informed business decisions.
Business intelligence allows businesses to generate reports and conduct analysis that would have taken weeks, in just hours. These systems also allow for convenient, fully-automated reports emailed on a regular schedule.
Business intelligence lets companies make better use of their existing data. It makes that data actionable on a daily, hourly, or even by-the-second basis.
BI allows companies to deliver critical information to the right people who need it, so that insights and decisions can be made much more quickly. This improves team collaboration, enhances visibility across the organization, and results in much faster decision making.
Better Informed Decisions
ERP systems provide management, with the ability to monitor important metrics in the business processes they care about, so they can more efficiently respond to any anomalies in a timely manner.
If a dashboard shows that a particular SKU has a low profit margin, a manager can quickly direct employees to find the cause, without having to wade through mountains of irrelevant and unrelated information. Employees can open the dashboard, click on the problem metric, and then zoom into detailed information or original documentation that explains the data. Using this information, they can make a well-informed decision to resolve the issue.
Business intelligence continues to be critical to operational efficiency. 54% of enterprises say Cloud BI is either critical or very important to their ongoing and future initiatives. And according to Forester, an organization that implements a BI solution can experience a 127% return on investment (ROI) in just three years.
Increasing IT Capabilities
Another area where business intelligence can provide support is in IT capabilities and efficiency. Large ERP systems usually require the IT organization to build a large data repository to provide a consolidated view of business data. There are many midmarket solutions that take advantage of the integrated data that ERP systems offer; other third-party systems provide additional data consolidation.
The ad hoc queries and reports provided by BI systems remove the need for IT resources to create those reports. It also empowers employees to build their own queries based on their specific needs. BI solutions that come from the company's ERP vendor leverage the company's existing software, such as Microsoft Excel, to simplify the process of pulling data and building reports.
Many small-to-midsized companies are constantly looking to improve operational efficiency. BI's automated and customizable reporting and query analysis capabilities enable those small-to-midsized companies with the ability to boost efficiency throughout the organization.
Companies can make faster and more effective business decisions, thanks to the data and analysis capabilities that BI provides. It allows employees to concentrate on the problems and business processes that matter, and it lets them look critically at those business processes to improve them and measure those positive results.
Editor's note: This blog was originally posted July 2018 and has been updated March 2022 for accuracy and comprehensiveness.