in: Company News
It may seem like a strange thing—how can you increase employee satisfaction through a digital transformation strategy?
A digital transformation strategy refers to the shift of manual processes into automated, or digital ones. An overall digital transformation strategy includes both the software used to manage various business processes as well as the methods of working with them.
Employees working with digital platforms may find that rather than harming their job prospects, emerging technologies enhance them. For this reason, it is imperative your team understands not just the bells and whistles of the new systems you're installing, but how it impacts their jobs and why it's beneficial to them. Here are three ways in which digital transformation can powerfully and positively impact employee engagement and satisfaction.
Error Reduction Means Less Workplace Frustration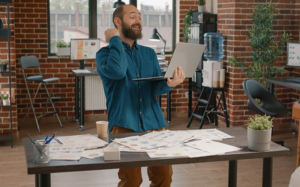 Manual data entry is tedious. Taking inventory manually in a warehouse, recording data into spreadsheets, and completing forms by hand can also accidentally introduce errors into the system that can be problematic to find and correct. Monotonous activities tend to be done on mental "auto pilot," and it's easy to make mistakes when that happens. You probably don't have to explain to your employees how frustrating these mistakes are because they deal with them every day.
With digital transformation, many manual processes are replaced by automated systems that not only make tedious tasks easier and faster but eliminate opportunities for data entry errors. Fewer mistakes mean less workplace frustration and potentially happier employees.
Increased Productivity
Everyone likes to feel a sense of accomplishment at the end of a busy workday. It can be frustrating to feel like you've been busy all day without the happy sense that you have contributed to the bottom line. Working through a stack of forms to type into the computer is no one's idea of a productive day.
Instead, with digital transformation, many processes can be automated. An ERP system can automate processes such as procure-to-pay, order-to-cash, customer relationship management, and financial reporting by simultaneously associating debits and credits with accounting and reporting functions. With these tasks out of the way, employees can focus on the more satisfying job of helping customers.
Opportunities for Advancement
Another way in which digital transformation can improve employee satisfaction is by allowing highly motivated individuals to have the opportunity to showcase their talents. Imagine someone stuck in data entry who has creative ideas to improve the warehouse layout. With tedious data entry tasks out of the way, they can share their ideas and perhaps get permission to enact them. Once repetitive tasks are reduced or removed, more time is available for creative suggestions, problem solving, and taking on additional responsibilities—all ways in which employees can demonstrate their fitness for advancement.
Make the Digital Transformation Journey
Every company makes a different digital transformation journey. Some companies automate one system then wait years to automate others. No matter where you are in your digital transformation journey, be sure to maximize your existing systems to get the most benefit from them.
Changing from off the shelf accounting programs to powerful ERP systems may also be part of your digital transformation journey. If so, and you'd like some assistance, visit Mindover Software's website to familiarize yourself with the ERP systems we offer. Then, when you've completed your internal due diligence and have questions, we'd be happy to assist you with your ERP selection.