in: Company News, Enterprise Resource Planning (ERP), Acumatica
A role-based ERP system organizes information around the user's role. This ensures that users view information according to their needs. Role-based ERP improves security as well as usability. Here's how.
Improved Usability in Role-Based ERP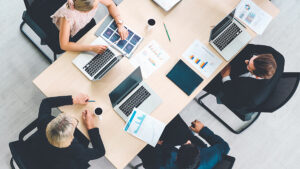 In typical ERP systems, users must switch between modules to move among various tasks. But each users requires different modules. The accounting team member has different needs than the warehouse leader. This constant switching between modules is time consuming and frustrating.
However, with role-based ERP, individuals can create their own views depending on their role in the company. Security permissions are set so information is appropriately displayed based on a person's role within the company. Users can control their view of the ERP dashboard, ensuring quick access to the most needed tools.
Enhanced Security
Often, ERP companies talk about breaking down silos as if everyone should have access to every data point within a company. Clearly, this is not the case. It's obvious that no one except human resources should have access to an employee's HR record or salary information, for example.
But what might not be as obvious is that some financial information or customer data is equally as sensitive. In this case, role-based security settings can prevent information from being shared with unauthorized employees.
Role-based ERP ensures that such settings are respected, and controls information displayed on the user's dashboard. This enhances overall information security.
Other Benefits for Manufacturers
ERP systems are often used by manufacturers, and in this case, role-based ERP provides multiple benefits for manufacturers in addition to improved visibility and enhanced security. For example, setting up your ERP system with role-based access helps improve:
Materials planning
Resource management
Scheduling
With role-based ERP, it becomes much easier for specific groups in a manufacturing company to view data related to all aspects of the supply chain. Resources, materials, and scheduling are part of the lifeblood of manufacturing, but not everyone taps into this data. Having it available to users based on roles, along with other frequently accessed data, enhances productivity across the company.
Acumatica for Role-Based ERP
Acumatica is frequently cited as the most user-friendly ERP available on the market. The G2 Review, for example, awarded Acumatica the highest marks for best usability.
Among the many aspects of Acumatica that make it a very user-friendly system is its ability to customize dashboards. Role-based ERP via Acumatica enables each user to establish the dashboard that makes their work easier and faster. And the Acumatica R2 2022 release also enables the app to mirror the desktop setup, so that whatever the user's desktop view, they'll see the same thing on the mobile app.
Acumatica offers many benefits and, as a midrange ERP, offers a great blend of powerful features and customization. Manufacturers especially appreciate the features in this system made for their industry, such as inventory management, bills of materials (BOM), materials requirement planning, and more.
Role-based ERP is certainly desirable and in great demand. See if your system can accommodate it. If not, and you need to shop for a new ERP system, begin the requirements planning state immediately. Hesitation is not an option. With the current, highly competitive global marketplace, companies ahead of the digital transformation curve will be the ones to maintain their competitive edge.
Mindover Software
Mindover Software is a software reseller with a broad range of accounting, ERP, finance, customer relationship management, and other software products, including Acumatica software. For more information about Acumatica or other software needs, please contact us or call 512-990-3994.