in: Company News, Acumatica
Now that you've chosen Acumatica as your new ERP system, what next?
Many companies look forward to their new ERP platform but experience some anxiety as the process begins. There are certainly many moving parts and decisions to be made when a new ERP system comes online in your company. The following tips for a successful Acumatica implementation are based on our many years of experience working with companies to set up or augment their Acumatica systems.
Manage Expectations and Timelines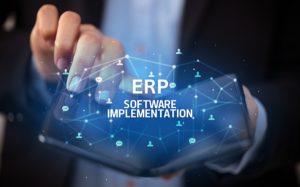 The first step to a successful Acumatica implementation is to manage expectations and timelines. While everyone may be eager to start using the platform, certain steps must be taken to ensure its successful launch, and this takes time.
Your ERP vendor should provide you with a roadmap, timeline, and milestones for the implementation. Review it with them so you understand what each step of the process entails. You will take some steps in conjunction with your ERP vendor, while you may be asked to complete other steps independently.
It's important to understand the timeline for each step, too. This shared expectation will help you communicate more effectively with the ERP vendor and ensure you are both in sync with deliverables.
Keep All Stakeholders and the Implementation Team Informed
Another important tip for ensuring Acumatica implementation success is to ensure clear, consistent project communication with all stakeholders and the teams working on the implementation.
Nothing derails an ERP implementation faster than siloed communication. Even if you aren't sure whether information is useful for a team, share it. It is better to over-inform everyone about deadlines and project deliverables than under-inform them.
And don't stop with the stakeholders and implementation team. Be sure that everyone in the company is informed of the changes to come. It's time to help people understand the need for the transition to a new system.
Adjust the Workload for the Implementation Team
It's tempting to assume that adding ERP implementation to your existing team members' workloads isn't adding too much, but in truth, implementing an ERP is indeed work. It's helpful to reduce their regular workload and reassign tasks to others so they can focus on the project.
Partner with Your Vendor
Lastly, to ensure ERP implementation success, consider your company a partner with your ERP vendor. The vendor cannot work in isolation but needs to truly understand all aspects of your business. They may need access to people, processes, and systems or need a tutorial on how you operate and manage your business. Many things can impact the overall ERP system and how it is set up, and your vendor needs to be embedded in your company culture to ensure the ERP meets your needs.
Acumatica Implementation Success Stories
If you'd like to read more about our work with Acumatica, you may wish to view the success stories for Twang, a seasoning and flavoring manufacturer that needed an ERP system that could keep pace with business growth, and American Image, a company that required a highly customized Acumatica implementation.
Acumatica ERP Implementation Starts with Mindover Software
At Mindover Software, we've seen our share of Acumatica implementations, and we know what works best for our clients. Good communication, a consultative approach, and a deep understanding of our clients' businesses always lead to satisfaction and a great implementation experience. If you're considering Acumatica ERP, give us a call and let's talk about how we can make your implementation our next shared success story.
Mindover Software can help you find the right ERP for your business. We are your business technology partner. Contact us or call 512-990-3994.