in: Company News, Enterprise Resource Planning (ERP)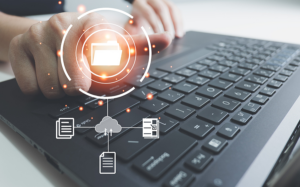 Finance, procurement, human resources, project management, compliance regulation, inventory control, and supply chain operations can all be managed by ERP systems. ERP software improves efficiency by integrating these areas in real-time.
ERP systems can benefit all types of businesses, from start-ups to large corporations. When traditional business methods no longer suffice to meet the demands of a growing company, ERP software becomes necessary.
ERP Systems: Value for Business
Fortune Business Insights reports that ERP software sales are expected to grow from $49.28 billion in 2022 to $90.63 billion by 2029 at a compound annual growth rate (CAGR) of 9.1%.
ERP technology is becoming increasingly crucial for enterprises, as evidenced by its growing demand. A well-designed ERP system automates and streamlines all your core business processes, allowing you to accomplish more with fewer resources.
Business Productivity Is Improved with ERP
Business performance is ultimately improved when an ERP system is designed to enhance all business functions and increase employee efficiency.
There are several ways in which an ERP can improve business productivity:
Simplified Business Accounting
Managing business accounting manually is difficult for enterprises since employees spend a lot of time and effort generating reports. In addition, a company's sustainability may depend on sharing data among departments such as finance, sales, accounting, and human resources.
ERP software connects these departments to ensure employees have access to the same data. With ERP solutions, accounting tasks become easier and more accurate, enhancing productivity growth, and reducing delays.
Information in Real Time
ERP systems provide real-time data for all business departments, including sales, production, inventory, and finance. Making critical decisions is easier when you have live data at your fingertips. By responding quickly to operational challenges, you can reduce their impact.
Integrating all business functions reduces the chances of errors by eliminating the need to manually enter and update the exact data for each department. With ERP software, you can view performance data in real-time by using dashboards.
Save Time and Money
ERP systems allow users to better utilize their time by automating repetitive and time-consuming business processes. Users do not have to search multiple systems for information because it is centralized.
Time and money are saved by eliminating the need to train users for each tool. Additionally, manual labor and time spent completing business processes are reduced, enhancing overall productivity.
Improved Supply Chain Management
Organizations can streamline their supply chains by storing data and tracking products in real time.
As soon as a customer order is confirmed, a bill of materials (BOM) is automatically generated, and a purchase order is automatically sent to the vendor. As a result, production schedules and estimates are updated. Real-time updates make businesses more visible and resilient.
Forecasting & Decision Making
Your business can respond faster to market demands with ERP software because you can pull reports from all departments at once. Team members can make informed decisions and plan efficient strategies to increase productivity with accurate real-time reports.
Enterprise resource planning systems provide accurate real-time financial data that facilitates financial forecasting. This allows the finance department to monitor income and expenditures efficiently.
In addition, the software provides real-time updates on stock levels for inventory forecasting purposes. In addition, it estimates likely demands from customers, products, and seasons.
A Better Way to Manage Projects
ERP systems provide a project management tool to improve business productivity. Project managers can manage customer relations, team performance, estimates, schedules, and employees with it.
A centralized ERP facilitates efficiency by monitoring workflows and avoiding overlapping responsibilities and confusion between teams. Every task is completed on time, without delays, with ERP project management. The result is a more productive business.
Stronger Customer Relations
The growth of a business depends on good customer relationships. It is easy to achieve this goal with ERP software's customer relationship management capabilities. ERP implementations improve customer engagement by providing regular updates and communications.
Building customer loyalty requires efficient after-sales service and logging customer interactions from day one. This results in highly satisfied customers.
Precise Inventory Management
Companies can lose valuable time by manually tracking inventory. Inventory management in an ERP system allows you to keep track of warehouse stocks, transportation, and out-of-stock items accurately.
Warehouse managers can make more accurate decisions with real-time inventory information. When you have this level of visibility, you can ensure your stock levels meet customer demands.
Seamless Production Process
A fully integrated ERP solution makes data accessible in real time to authorized employees across all business functions. This allows them to make informed decisions during the manufacturing process.
By automating production processes, redundancies and human errors are eliminated. The result is an increase in productivity and operational efficiency. Direct transfer of material requirements data between production and purchasing prevents production delays or shortages.
Improved Compliance
A significant advantage of ERP systems is their ability to keep industries up to date with business regulations. Keeping up with government regulations and laws is essential to staying compliant.
Risk Management
It is impossible to run a project completely risk-free; therefore, avoiding problems isn't an option; instead, risk management must be the focus. Risk management identifies and evaluates risks and selects appropriate responses.
A successful ERP implementation means positive outcomes and the prevention of adverse outcomes.
How Can We Help You?
You can improve the overall productivity of your organization by managing and integrating all business processes with ERP software. Planning and allocating resources more efficiently are easier when a company has a better perspective. Having separate systems for every department can make it difficult for businesses to function smoothly.
As a leading provider of advanced ERP software solutions, we help you reduce operational expenses, improve productivity, increase efficiency, strengthen relationships with customers, suppliers, and distributors, and build stronger vendor and supplier relationships. Contact us today to learn more.