in: Company News, Acumatica, Home Health Care, Accounting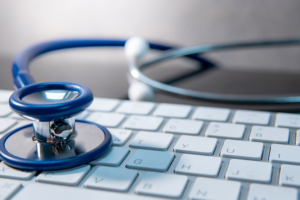 Although you may not be aware of cloud ERP for healthcare, medical practices and facilities can benefit greatly from the robust accounting features found in cloud ERP systems. Healthcare accounting software can help your practice or healthcare business improve efficiencies, reduce billing errors, and manage payroll.
Cloud ERP for Healthcare: Managing Complex Financial Transactions
The 2020 CAQH Healthcare Index, which tracks automation in healthcare, found that of the $372 billion cited as the cost of administrative complexity in the US healthcare system, the industry can save $16.3 billion by fully automating nine common transactions. Among these nine transactions are several accounting functions including claims payment.
Although using cloud ERP won't save your practice billions of dollars, automating many of the manual accounting tasks your staff performs now can make your practice more efficient and responsive to patient needs. It can also eliminate costly billing mistakes, late invoices, coding errors and more that all add up to time and money drains on an already lean budget.
Let's take a closer look at the benefits of cloud ERP for healthcare and how it improves a healthcare practice's accounting.
Improved Billing Management
Healthcare billing involves a complex array of codes, insurers, and providers. Ensuring accurate, timely bills is essential to running a profitable practice. According to a KPN news article quoting CNBC, 80% of health insurance claims contain errors. That adds up to a lot of time (and resources) spent tracking down and fixing preventable errors.
Moving your accounting from spreadsheets to cloud ERP for healthcare can prevent many errors by automating billing. Streamlining procedure codes, automating accounting functions, and eliminating manual data entry reduce the opportunity for human error, thus reducing billing mistakes.
Better Data Leads to Better Practice Management
Another benefit of cloud ERP for healthcare is the improved end-to-end visibility over all aspects of a practice's data. Cloud systems rely upon hosted, linked computers, which can transmit data almost immediately using internet-based systems. This means that wherever a cloud-based system is updated, the information becomes immediately visible to all who have access.
As more healthcare providers shift to paperless offices, more data is becoming available to help them manage their practices more efficiently. This includes billing and insurance information. Real-time claim and benefits approval means you can provide assurance to patients that their insurance company will pay its portion of the bill. And it also means you can manage your cash flow more effectively when you know which insurers will remit payment soon.
Manage Payroll with Ease
Another business aspect of a busy healthcare practice that improves with cloud ERP for healthcare accounting is payroll processing. Practices currently relying on old-fashioned checks and an accountant to upload federal tax documents each pay period can now manage all these payroll steps from one single platform. It's a huge time saver, and allows for more accurate tracking of payments rendered, benefits paid, and so on.
Acumatica Cloud ERP for Healthcare
Acumatica cloud ERP wasn't built for healthcare, but it's industry-agnostic platform can be easily tailored to the needs of many types of healthcare practices.
Healthcare product companies especially love how Acumatica's Retail and Commerce edition can be tailored to manage their complex inventories. Everything from the smallest item in the warehouse to major medical devices which require stringent tracking can be managed through Acumatica's user-friendly dashboards.
For more information on Acumatica cloud ERP for healthcare, contact Mindover Software. We're experienced at helping home health agencies and other healthcare practices and businesses implement effective cloud ERP solutions to better manage their accounting and financial needs. For more information, please contact us or call 512-990-3994.