in: Company News, Enterprise Resource Planning (ERP), Cloud Computing
Does your company have digital business agility? What is digital business agility, and why is it important?
Digital business agility refers to the ability to quickly adapt to changing circumstances, including adapting technology to changing circumstances. The global pandemic proved that companies who can shift and change to accommodate changing business patterns are better positioned for success than those who rigidly uphold established protocols.
Digital practices are no different. Companies that can leverage technology to meet customer needs quickly and flexibly can achieve higher profits, grow stronger businesses, and withstand changing marketplace conditions.
Digital Business Agility—Threefold Approach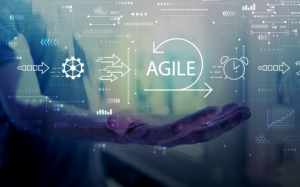 According to The International Institute for Management Development, companies need three things to be agile:
Hyperawareness
Informed decision making
Fast execution
Digital business agility improves a company's ability to embrace all three aspects of an agile approach.
Hyperawareness: Single Source of Data Through ERP
Hyperawareness, the first aspect of an agile business approach, means a heightened awareness of all factors affecting a business. This includes, but is not limited to, internal and external factors.
Internal factors include staffing, cash flow, budgeting, production, warehouse, inventory, marketing, sales, and customer service, to name just a few.
External factors may refer to economic indices, labor market studies, customer demographics, competitor activities, suppliers, transit and transportation factors, weather, global demand and so on—things happening outside the company that can directly affect the business.
An ERP system measures activities occurring within the company, so it can improve awareness of all internal factors to a great degree. Using separate systems, such as a separate accounting and CRM platform, segregates business data into silos, making it difficult to gain a clear overarching view of all activities.
Within an ERP system, data is collected and disseminated from one central repository. When all the systems are interlinked and connected, managers can get a clear picture of every facet of the business and make informed decisions.
Great visibility into the internal workings of a company, from budgeting to shipping, enhances hyperawareness, part of an agile business.
Informed Decision Making
Along with becoming aware of all aspects of the business, the ERP system can provide the data needed to make informed decisions. Cloud-based systems provide timely and accurate information from all areas of the company, including remote locations such as warehouses and satellite offices, which can be included in the decision-making process.
Companies that previously relied on spreadsheets will find the ease with which they can access data from an ERP system a great boon. Informed decision making is much easier when the information access is frequently updated and available to all.
Fast Execution
Along with hyperawareness and informed decision making, a company with digital business agility can also execute decisions with speed and confidence. Recent and comprehensive data make it much easier to enact strategies and tactics based on data quickly to match marketplace forces. The speed with which such decisions can be made and acted upon is greatly improved with the right digital systems in place.
Examples of Digital Business Agility
Several businesses exemplify digital business agility.
American Sign produces customized signage for businesses. Signs include typical business signs but may also include directional signage, such as hotel signage, which is highly customized. The company struggled to automate many of its processes because of how it produced its products. Fortunately, Mindover Software was able to customize their basic Acumatica ERP package to ensure it could match their business needs. The result was increased profitability and an easier agile approach to managing data.
Twang, producer of flavors and flavor enhancements for food and beverages, needed an agile digital business solution to meet its needs. The company was growing rapidly, and in order to maintain data visibility and facilitate fast decision making, needed a system that would enable 360-degree visibility into all aspects of production, accounting, finance, and more. Acumatica met their needs and ensured they had an ERP platform to support the company's burgeoning business.
Miller Veterinary Supply also needed digital business agility to meet it growth objectives. The company supplies animal-based businesses, such as veterinary clinics, with supplies. It was experiencing rapid growth but lacked the data visibility that ensured rapid decisions and execution of its strategy. By updating their ERP database, they added the digital business agility necessary to support their strategy.
Digital Business Agility Supported by Cloud Platforms
Cloud-based ERP has greatly enhanced digital business agility. Although the pandemic remains a recent example of how companies with digital business agility thrived during challenging times, other events can also make digital business agility necessary.
Weather can make the business environment change quickly. Digital business agility ensures that no matter what Mother Nature throws at your company—blizzard, hurricane, tornado—your company can still conduct business by encouraging workers to remain safely at home without braving rain, wind, or snow.
Transportation challenges require digital business agility. Port strikes, airline delays, and other transportation nightmares can delay shipments. But with a cloud platform connection to suppliers, and the information easily available through a cloud ERP system, you can adjust orders and shipping to account for unexpected delays.
Supplier challenges: A global marketplace means that many companies are dependent upon overseas manufacturers and suppliers for equipment, parts, and supplies. But conditions overseas can change rapidly, too. Pollical instability, natural disasters, and shipping delays can all lead to supply chain woes. A company with digital business agility can use its systems to rapidly locate additional suppliers, reroute orders, and more.
Does Your Company Have Digital Business Agility?
Lastly, one aspect of digital business agility that's often overlooked is the ability for platforms to connect easily with other software. A base ERP packs a great deal of punch, but it may not have everything you need.
Some systems make it easier than others to connect with third party applications. Acumatica encourages third party API development and offers a marketplace where customers can find additional apps to suit their needs.
No matter which ERP system you choose, it is vital to have an ERP consultant who understands your business objectives. Without a good partner by your side, you may choose an excellent ERP platform but fail to utilize it fully. Contact Mindover Software for ERP consultation services.