in: Company News, Accounting
The use of automated solutions has become more the rule than the exception. At the same time, the responsibilities of today's CFO and the accounting department have transformed, and the expectations have only increased.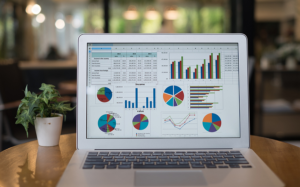 Efficiency is the currency in the modern business world. As such, there's tremendous pressure to deliver information and financial reporting quickly as department leaders depend on accounting for timely, relevant information to make the mission-critical decisions needed to stay competitive.
But does all this time and effort actually benefit the people and the organization as a whole? Do department heads associate their goals and activities with the company's financial results? Do they understand the information reflected on financial statements and how to influence the results reflected on them? These are important questions that CFOs must consider. Here's why, no matter their job function or seniority, employees should have a command of the basics.
From Automation to Education
In the not-so-recent past, accounting teams were burdened with often tedious and time-intensive tasks, leaving little time for anything else. Today, with advanced Enterprise Resource Planning (ERP) solutions and financial management software, automation has changed the game.
That said, technology adoption and use isn't enough, nor is it a sustainable strategy. Today's accounting professionals must also help colleagues in other departments know how to leverage, use, and apply this information to their roles. Here's how to do that on a practical level:
Break down complex concepts.
Accounting jargon and complex concepts can be overwhelming for non-financial professionals. To make accounting more accessible, break down complex terms and explain them in simple, relatable language. Provide real-life examples to illustrate how these concepts play out in day-to-day business operations.
Offer training and workshops.
Organize training sessions and workshops focused on corporate accounting basics. Cover topics such as basic accounting principles, financial statements interpretation, budgeting, and forecasting. Foster a culture of curiosity and encourage active participation in professional development programs. You might even find ways to incentivize attendance, such as providing team lunches and other perks.
Visual aids, such as charts, graphs, and infographics, can be powerful tools to convey financial information in a more digestible format. Presenting abstract concepts on paper can help non-financial professionals grasp complex data and trends quickly.
Relate accounting to departmental goals.
Show non-financial professionals how accounting information relates to their specific departmental goals. Illustrate how their actions impact the company's financial health and demonstrate the significance of cost control, revenue generation and resource allocation in achieving overall objectives.
Encourage questions and discussion.
Create a supportive environment that encourages non-financial professionals to ask questions about accounting matters without fear of judgment. Regularly hold meetings or Q&A sessions where finance experts address queries and share insights so that accounting is demystified.
Provide real-time access to financial data.
Offer non-financial professionals access to real-time financial data through user-friendly dashboards or reports. Providing up-to-date information empowers them to monitor their department's financial performance and make data-driven decisions.
Promote cross-functional collaboration between finance and other departments. When non-financial professionals work closely with finance teams, they gain a deeper understanding of financial implications. In turn, finance professionals learn about other facets, fostering mutual understanding and appreciation.
Consider gamification to make financial learning more engaging and enjoyable. Create quizzes, puzzles, or simulation exercises that challenge non-financial professionals to apply accounting concepts in a fun and interactive manner.
ERP software empowers cross-functional teams.
Enterprise Resource Planning (ERP) software can play a significant role in helping non-accounting people understand financials by providing user-friendly tools and features that simplify financial data and promote financial literacy. Here are some ways ERP software can assist non-accounting professionals in gleaning relevant financial insights:
Centralized and real-time data access
ERP software integrates data from various departments into a centralized database. This ensures that all users have access to real-time financial data without relying on manual updates or data transfers. Non-accounting personnel can access financial reports, statements, and key performance indicators (KPIs) from a single platform, allowing them to stay informed about the company's financial health.
User-friendly dashboards and reports
ERP systems typically offer intuitive and visually appealing dashboards that present financial data in a user-friendly manner. Graphs, charts, and infographics make it easier for non-accounting professionals to interpret financial trends and performance metrics. Customizable reports enable users to focus on specific financial aspects relevant to their roles, enhancing their understanding of financial information.
Financial data visualization
ERP software often includes data visualization tools that help non-accounting personnel better grasp financial concepts. Instead of raw numbers and spreadsheets, users can interact with colorful visuals that present financial data in more concrete terms. This visualization aids in identifying patterns, correlations, and anomalies, making financial insights more accessible.
Budgeting and forecasting
ERP systems typically have budgeting and forecasting modules that allow non-accounting professionals to participate in financial planning processes. These modules enable users to understand how budgeting decisions impact the company's financial projections. By involving non-accounting personnel in budget discussions, they gain insights into financial constraints and the importance of cost control.
Integration with non-financial processes
ERP software integrates financial data with other business processes, such as inventory management, sales, and procurement. This integration shows non-accounting personnel how their actions affect financial outcomes. For example, the impact of sales targets on revenue or inventory management's influence on cash flow becomes more apparent.
Training and education resources
Many ERP vendors offer training resources and tutorials to educate users about financial modules and concepts. These resources are often designed for non-accounting professionals, presenting accounting information in a simplified manner. Training sessions and workshops can help non-accounting staff navigate the ERP system confidently and interpret financial reports effectively.
Collaboration and communication
ERP systems facilitate collaboration between departments, allowing non-accounting personnel to work closely with the finance team. This collaboration promotes cross-functional understanding, and non-accounting professionals can seek advice or clarification directly from the finance team. Improved communication between departments fosters a shared understanding of financial data and objectives.
Security and data control
ERP software ensures data security and control, instilling confidence in non-accounting professionals that the financial information they access is accurate and reliable. With secure access controls, users can view financial data relevant to their roles without compromising sensitive information.
As employees from all departments gain a better understanding of financial information, they become active contributors to the organization's financial goals and decisions. Ultimately, this knowledge-sharing approach enhances overall financial health and elevates the company's stature in an increasingly competitive business landscape.
Modern Accounting Made Simple
No doubt your to-do list grows longer by the day, but there's a way to lessen some of the burdens holding you and your organization back from success. Leveraging the right automated system can eliminate tedious tasks, freeing up valuable time for more strategic endeavors.
We realize that making the investment in ERP software is a critical decision for your business. It needs to comply with current accounting regulations and effortlessly adapt to new ones as they arise. Moreover, the platform should enhance the experience for your project managers and customers, ensuring smooth operations and customer satisfaction.
Not sure where to begin? Uncover the secrets to finding the perfect solution that ticks all these boxes and more. Download our free and exclusive guide to Accounting Automation.