in: Company News, Sage 300 ERP Tips and Tricks, Sage 300 ERP
In this tutorial, we are going to review how to use provisional posting to test the effects of changes on the general ledger before posting actual amounts permanently. This is particularly useful when needing to make month- or year-end adjustments, yet first wanting to make sure you have entered all transactions needed before posting. For our demo, we will provisionally accrue contractor revenue for work done in December 2021.
Start by looking at where the trial balance stands before making any adjustments. Navigating to the General Ledger → G/L Reports → Trial Balance. For our example we will look at December 2021.

Make sure Report Format is set to Report and the date is the period desired. Click Print.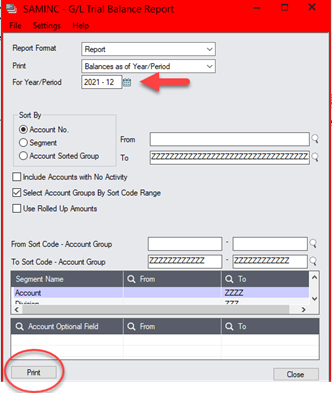 A G/L trial balance report generates. Take note of the Accounts Receivable amount, $865,018.88. We will use this account to make an adjustment and provisionally post.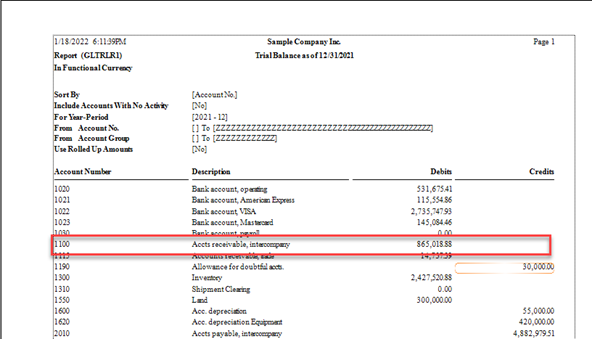 After reviewing the trial balance, make sure the system has been marked to allow provisional posting. To do this, go to G/L Setup, and double click on Options.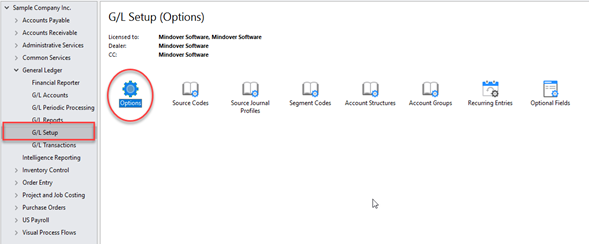 In the Posting tab, make sure that the box marked Allow Provisional Posting is checked. Click Save and Close.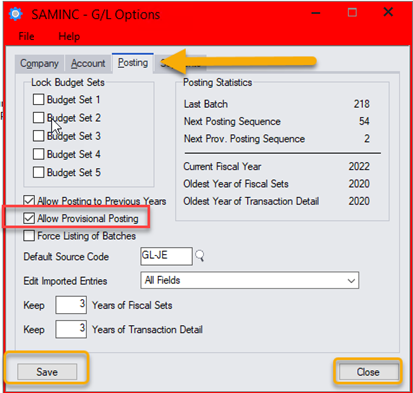 Let's create a journal entry to accrue $10,000 of revenue for Contractor A into December. From the General Ledger section, click on G/L Transactions, and double click on Journal Entry. Click (+) to add a batch.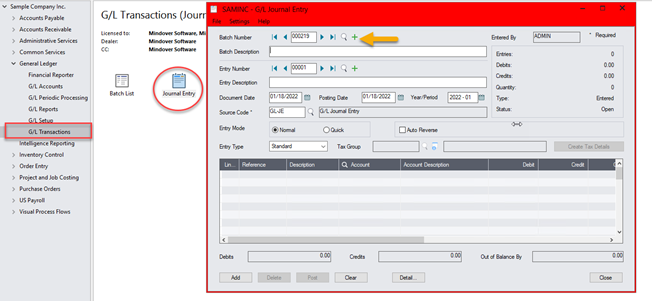 Enter a batch description, which can be copied to the Entry Description as well. Enter the date the revenue needs to be accrued to: for example, 12/31/2021. Then, enter the necessary information in the fields below to create a debit to accounts receivable and a credit to Contractor A for $10,000. With all needed information entered, click Add and Close.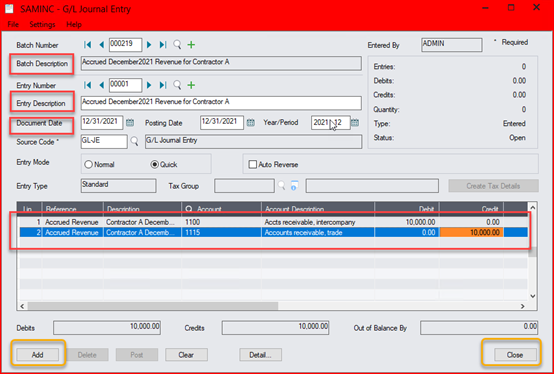 Next, double click on the Batch List. Now, we are ready to provisionally post our journal entry. First, mark the entry ready to post. Then, click provisional post. A pop-up confirmation window will open.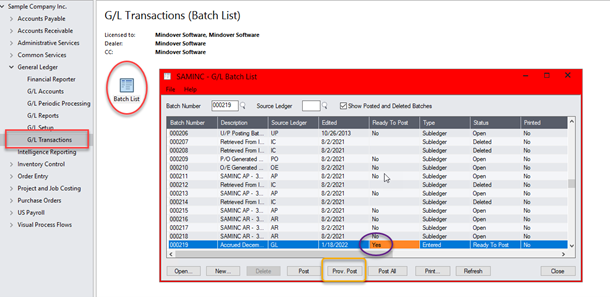 To check the entry, go back to G/L Reports and run the trial balance again. This time, change the report format to Provisional Included. Click print.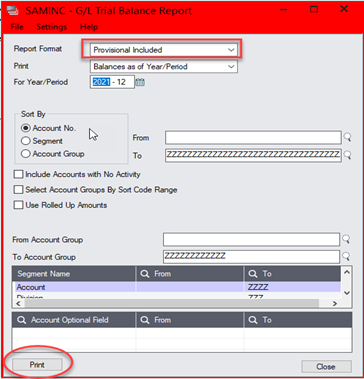 Take note of the change to the A/R balance with the accrued revenue included. Recall the permanent amount is 865,018.88. Updated, the adjusted A/R balance is $875,018.88.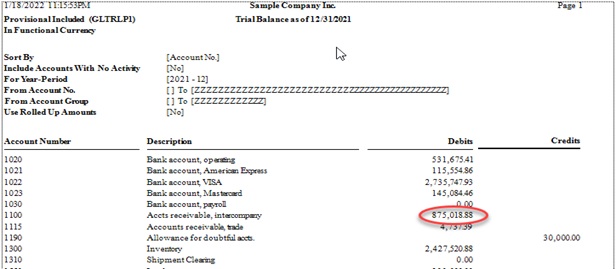 Remember: Provisionally posted adjustments are stored in a provisional fiscal set and are maintained separately from actual postings. They can be included on regular G/L reports, showing the net result of batch postings on the ledger's accounts. When you are satisfied that your entries are correct, you can permanently post the batch to revise the actual financial ledger. Otherwise, if you are not satisfied with the result, then the batch or entries can be deleted.
See it in action with this video!