in: Company News, Sage 300 ERP, Accounting
In this tutorial, we review how to use periodic processing in Accounts Receivable to write off transactions, such as short pays or overdue balances. For our example we will look to write off balances on all customers at 5% of the original balance 180 overdue.
Sage 300 Accounts Receivable
Start by navigating to the Accounts Receivable → A/R Periodic Processing → Create Write-Off Batch.

In the Run Date field, enter the date for write-off batch. In the Posting Date field, select the date to post the batch.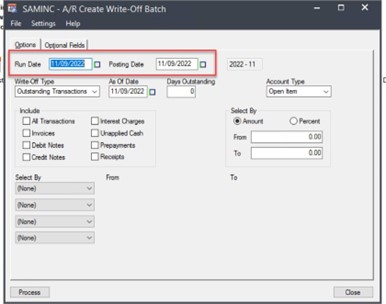 In the Write-Off Type field, specify what type of transactions to write off. For this demo, it will be overdue balances. Select the As Of Date from which to age the overdue balances, and enter the Days Overdue. This is only necessary depending on the write-off type. As we are writing off overdue balances, then it needs to be specified how far overdue the balances should be.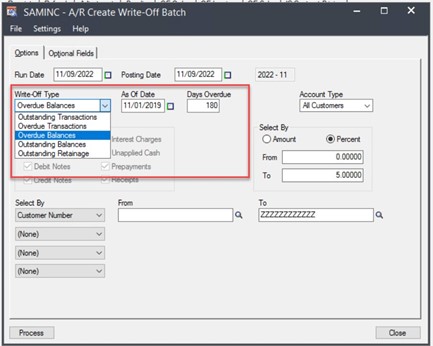 Next, specify the Account Type from the dropdown list.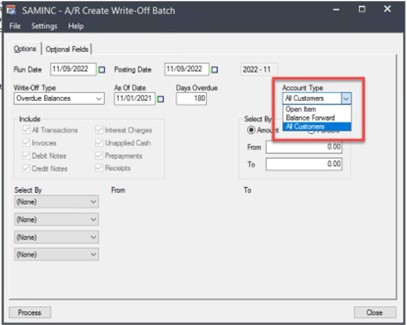 In the Select By area, indicate whether to write off by amounts or percentages, and then enter the range of amounts or percentages.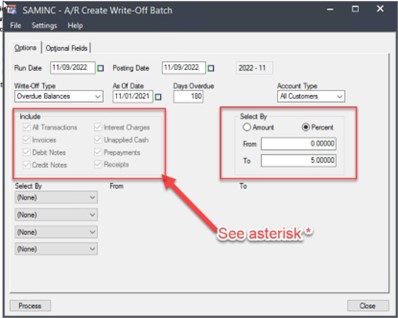 *Please note: When choosing to write off outstanding or overdue transactions (as selected in the Write-Off Type), check the types of transactions to write off from the Include group of fields.
In the bottom Select By fields, specific ranges of transactions to write off may be selected. For example, if it is a specific customer's balances or short pays that need to be written off, then this is where it would be specified. Also, if used, optional fields and values may be entered in the Optional Fields tab. For this tutorial, these will not be used.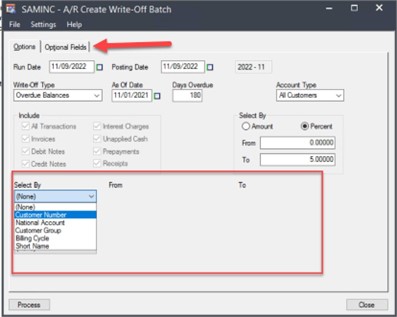 Once all necessary information is entered, then click the Process button at the bottom of the screen.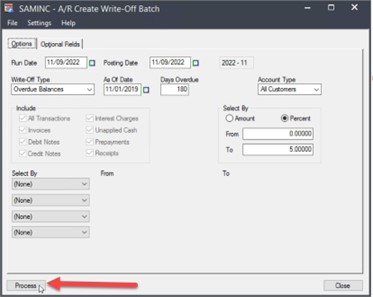 A message window will appear to confirm the processing completed and which adjustments were created.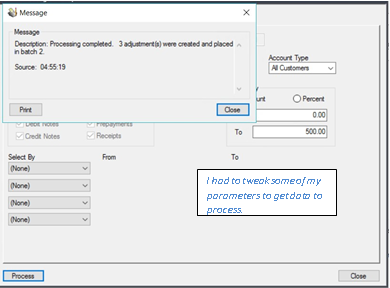 After creating the write-off batch, navigate to A/R Transactions and go to the A/R Adjustment Entry screen to make any changes necessary. Save, print, and post the batch listing.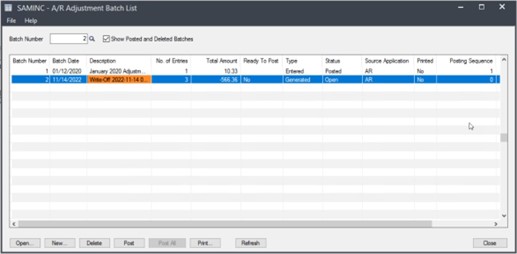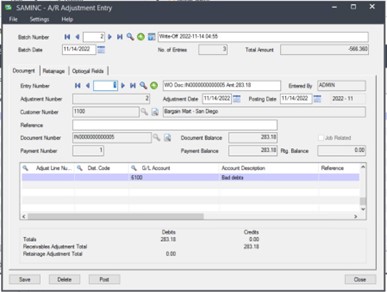 See it in action with this video!