in: Sage 300 ERP Tips and Tricks|Software Tips and Tricks, Sage 300 ERP Tips and Tricks, Sage 300 ERP
Many times we find ourselves needing to "know" which modules are installed and in use for a particular company. This information lets us know if we should install any new product updates or need to activate a new module. In this example, we'll show how to do this.
Sage 300 System Information
Login to Sage 300 and click on the Help link on the top toolbar.
2. Click on the System Information option.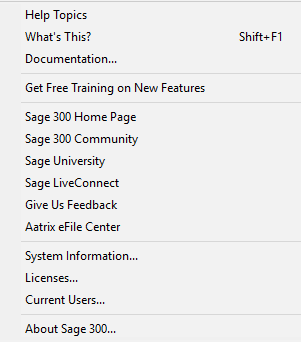 3. Select the Target Database, which should the new database you just set up. Click the next button
The information in the System Manager Version box lets us know the version of Sage installed, plus the current product update. Each red check by the accounting module informs us the module is active for the current company you are logged into. If there are multiple companies, login to each company to see what modules are active.