in: Acumatica, Cloud Computing, Company News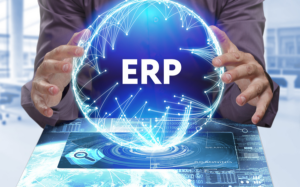 For business owners and managers, productivity is the cornerstone of success. However, measuring productivity involves a comprehensive evaluation of goods and services produced in relation to time and resources invested—a task that demands a robust business management tool.
Cloud ERP solutions offer a range of benefits that can revolutionize the way businesses operate. Such a tool can help businesses and stakeholders optimize operations, improve productivity, and drive growth. As technology continues to evolve, cloud ERP will undoubtedly play a pivotal role in shaping the future of business management systems.
Get the Full Picture with an ERP Solution
Enter the cloud ERP solution, a central repository for company-wide data that not only connects all aspects of your business but also offers invaluable insights into:
The optimal utilization of your business resources
Identifying areas where business processes and workflows can be improved
Enhancing communication and collaboration between team members
Leveraging the power of the cloud, modern ERP solutions efficiently deliver these advantages while providing essential reporting capabilities to evaluate productivity and disseminate information to all stakeholders.
In this way, utilizing a cloud ERP solution empowers your business to effectively track and measure productivity, leading to informed decision-making and improved overall performance.
Here's how a cloud ERP solution can empower your business to track and measure productivity:
Resource monitoring and management
With the cloud's visibility, you gain real-time insights into resource utilization—tangible assets like product components and intangible factors such as employee skills. This optimization of resource allocation maximizes potential while minimizing wastage. This level of visibility and analytics empowers businesses to optimize their processes, identify bottlenecks, and drive productivity.
Business process streamlining
Growth brings both joy and challenges. A cloud ERP solution helps identify inefficiencies and bottlenecks in current workflows. Armed with real-time data, you can strategize solutions like process automation and standardization to create a more streamlined and efficient operation.
Boosting employee productivity
Measuring and improving employee productivity is essential. Cloud ERP solutions enhance collaboration and communication between team members, allowing seamless coordination on projects, better role understanding, and efficient cross-departmental interactions.
The importance of measuring employee productivity cannot be overstated. Findings from Zippia research reveal that the average worker is only productive for about three hours a day, merely 33 percent of an eight-hour workday. Various factors contribute to this decline in productivity, including stress, business inefficiencies, and constant distractions. According to Zippia, the average employee gets distracted every three minutes and requires more than 23 minutes to regain focus on their tasks.
Such productivity drops not only impact businesses but also affect employee morale and job satisfaction. The good news is that this cycle can be broken. Cloud ERP solutions play a crucial role in enhancing collaboration and communication processes among team members, leading to increased productivity and efficiency. By harnessing the power of cloud ERP, businesses can unlock their employees' potential and foster a more productive work environment.
Productivity reporting
Cloud ERP offers multidimensional and customizable reporting functionalities, enabling data-driven decision-making tailored to your business needs. Identifying and resolving current issues is expedited, and proactive problem-solving can prevent potential obstacles.
Unlock the power of Acumatica Cloud ERP
Cloud ERP solutions significantly impact business productivity, giving them a competitive advantage in a crowded marketplace.
Acumatica Cloud ERP empowers your company to manage resources efficiently, streamline processes, foster team communication and report on productivity metrics. By boosting efficiency, reducing costs, and enhancing employee engagement, Acumatica helps elevate your overall productivity and elevate customer service.
Designed to meet your current and future needs, Acumatica offers user-friendly and cost-effective business management software. Measure productivity, craft performance improvement plans, and support ongoing productivity initiatives with Acumatica Cloud ERP—your pathway to success.