in: Company News, Sage 300 ERP Tips and Tricks
Many times we find ourselves with a need to restrict access to a certain account or all accounts within a segment. In this example, we'll look at how to restrict a user's access to several payroll General Ledger (GL or G/L) accounts by using the General Ledger Security in Sage 300.
Start Sage 300 and navigate to General Ledger > G/L Setup > Options. In the options UI, click on the Account tab. We want to ensure the Use G/L Security box is checked and Default Access equals All Accounts.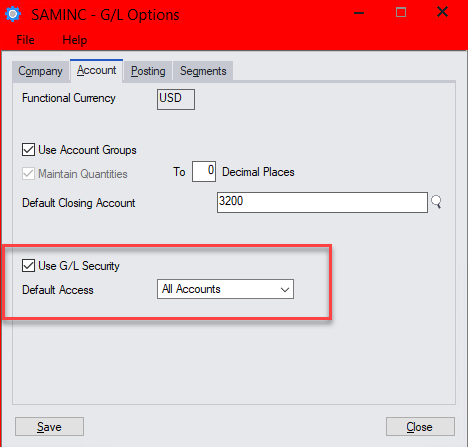 Now navigate to General Ledger > G/L Accounts > Account Permissions. Select the User ID you want to restrict access, select the Account tab. Enter the account range in the From and To boxes, making sure the Allow equals No. Click the Add button to save the setup.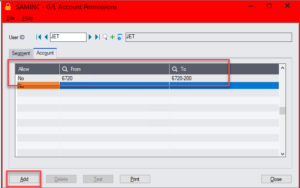 Click the Test button to see if the setup is behaving as you want. We scroll through the screen to where the G/L Accounts 6720, 6720-100, and 6720-200 should be. Notice they are missing from this report. This allows us to know we have the access set up how we want it to function.

WATCH THE VIDEO: USING GL SECURITY IN SAGE 300