in: Accounting, Company News, CRM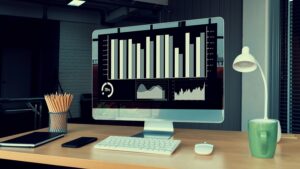 With the ever-increasing demands of modern business, the need for seamless collaboration between sales and finance teams has become crucial. Customer Relationship Management (CRM) and Accounting Software play a pivotal role in enabling this collaboration, ensuring that both departments are aligned towards common goals. Here's a look at the various aspects of CRM and Accounting Software and their impact on sales and finance collaboration.
Understanding the Role of CRM in Sales
Sales teams are at the forefront of any business, driving revenue and representing the company's products or services. They play a crucial role in building and maintaining customer relationships, as well as closing deals. However, managing these relationships and keeping track of sales activities can be a complex and time-consuming task.
This is where CRM software comes into play. CRM serves as a central hub that empowers sales teams to manage customer relationships efficiently. It acts as a digital assistant, helping sales professionals streamline their processes, enhance their productivity, and ultimately, boost their sales performance.
By providing a comprehensive view of customer interactions, CRM enhances sales effectiveness. It allows teams to personalize communication, forecast sales, and track the sales pipeline. With CRM, sales professionals can easily access and update customer information, ensuring that they have the most up-to-date data at their fingertips.
How CRM Enhances Sales Performance
CRM software has a transformative impact on sales performance. By consolidating customer data and providing actionable insights, CRM helps sales teams avoid duplicate efforts, identify cross-selling opportunities, and coordinate their activities.
One of the key benefits of CRM is its ability to prevent duplicate efforts. With CRM, sales professionals can easily see if a colleague is already working on a particular lead or opportunity. This eliminates redundancy and ensures that resources are allocated efficiently, maximizing productivity.
CRM also enables sales teams to identify cross-selling opportunities. By analyzing customer data and purchase history, CRM can suggest additional products or services that may be of interest to the customer. This not only increases revenue but also strengthens customer relationships by providing personalized recommendations.
The Intersection of CRM and Accounting Software
The integration of CRM and accounting software enables seamless data flow between sales and finance departments. For example, when a sales team closes a deal, the relevant financial information can be automatically transferred to the accounting system, eliminating the need for manual data entry, and minimizing errors. This integration ensures that both departments work with up-to-date information, fostering better collaboration and streamlining processes.
Benefits of CRM and Accounting Software Collaboration
The collaboration between CRM and accounting software brings numerous benefits. Sales teams gain enhanced visibility into customer payment history, enabling them to make informed decisions and tailor their sales strategies accordingly. On the other hand, finance teams can access customer data from the CRM system, facilitating accurate financial reporting and efficient management of accounts receivable and collections.
Ensuring Smooth Collaboration Between Sales and Finance
Collaboration between sales and finance goes beyond software integration. Open lines of communication, regular meetings, and shared goals are essential to fostering a culture of collaboration. By encouraging cross-departmental teamwork and knowledge sharing, organizations can overcome any potential silos and ensure a smooth collaboration process.
Bottom line: CRM and accounting software are essential tools that enable better collaboration between sales and finance teams. By harnessing the power of these systems, organizations can enhance sales performance, streamline financial management, and achieve seamless integration between the two critical functions. With robust CRM and accounting software in place, companies are well-positioned to drive growth, improve efficiency, and succeed in an increasingly competitive business landscape.
Contact us today for a free software solution consultation and learn more about the solution that is best for you.