in: Company News, Home Health Care, Accounting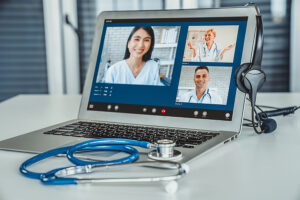 Home healthcare technology includes accounting systems for your business, and it is this technology that, if leveraged correctly, can significantly improve your agency's efficiency. Using cloud-based accounting platforms can help your patient care, billing, and payroll operate more effectively.
Home Healthcare Technology—Cloud Based Systems
First, when it comes to home healthcare technology, cloud-based accounting platforms likely give your business more efficiency gains than site-based systems. A cloud-based system enables users to log in anywhere, anytime they have internet access. Care workers can log their mileage, hours, and equipment used during a patient visit directly into the system, for example. This eliminates time-intensive paperwork that must be filled out by hand and then typed into the system later.
That's just one example of how cloud accounting systems and home healthcare technology can be used to simplify, streamline, and improve business processes. The right home healthcare agency software can help you improve cash flow and grow your business, to name just a few benefits.
Gain Efficiencies Using Accounting Systems for Home Healthcare Agencies
Depending on how you use a cloud-based system, you can realize benefits in different areas.
Managing employees
One of the highest costs for a home healthcare agency is labor costs. Staffing, payroll management, benefits, insurance, and tax management all add up to a big chunk of an agency's budget. And of course, there are the challenges finding and hiring good employees and employee retention, too.
Although an accounting system can save time in only a portion of these needs, it is a significant chunk of time. Consider several areas in which you may now be manually managing your employees:
Tracking hours
Tracking wages
Tracking mileage
Many home health agencies rely on paper-based tracking using forms or spreadsheets that employees complete when they return from a patient visit. The problem with such methods is that the employees must 1) remember to complete the form 2) spend time typing it into the spreadsheet or writing it down 3) someone else, probably in the accounting department, must manually key it into the computerized accounting system.
Now, consider how a cloud-based accounting system can help save time. Because the employees can connect to the system from anywhere, they can log in between client visits and enter their time and mileage directly into the system. There's no need for paper forms, rekeying information, or taking up any time with the accounting team. Instead, the system now has the information it needs and can tap into it for payroll, reporting and analysis.
Lowering costs
Another high-cost area for a home healthcare agency is supplies. Medical supplies can be costly and must be tracked carefully to ensure accurate billing to patients and insurance companies. To do so using paper forms or spreadsheets is as time-consuming an inefficient as manually tracking job hours. Inventory tracking can also be time-consuming, especially if completed manually.
With home healthcare technology such a cloud-based accounting system, inventory tracking is integrated into the accounting platform. You can easily check on supplies, set reminders to reorder frequently used items such as PPE, and check among your vendors to see who has the lowest prices. Plus, items can be scanned out of inventory as they are used to keep inventory tracking in real-time. You can track potential shrinkage issues, employees use of supplies, and more, all through the convenient accounting portal.
Supporting growth
For your home healthcare agency to grow, you need the right tools in place to support communications, financial management, and more. With robust home healthcare technology in place, you'll be able to manage patient records, communications, and insurance billing, for example, in one system instead of moving among many systems. It's a great way to support all business functions for robust growth.
Home healthcare agencies have unique business needs that cannot be easily met with off the shelf small business accounting software. Choosing technology for a home healthcare agency ensures that the platform is made for the security, privacy and tracking needs of an agency. Contact us or call 512-990-3994 for more information on home healthcare technology solutions.