in: Company News, Cloud Computing, Accounting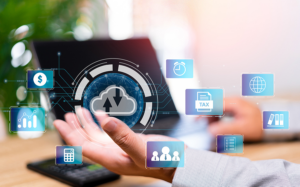 Cloud accounting systems offer many benefits and few drawbacks. The best cloud systems offer flexibility, security, and automation of numerous tasks. And, while they offer many benefits to the entire company, there are five specific benefits your finance team will appreciate. Here, we share these benefits and what they may mean to your finance department.
Data Transparency
Modern cloud accounting systems offer exceptional data transparency. Information is accessible to the entire finance team and available whether they are logging in from the office or remotely. Additionally, this information is kept updated almost instantaneously, with all inputs moving into a cloud-based system and providing accurate, timely data. Such data transparency allows you to monitor revenues and expenses with confidence, run reports to facilitate decision-making, and support the finance team's daily work.
Process Automation
How many hours per day does your finance team spend on routine tasks? These tasks may include sending payment reminders to customers, requesting approval on expenses, or sharing reports with stakeholders. While these tasks are important, they are time consuming, especially if someone on the team must stop what they are doing, run a report, send the report, and resume work.
With cloud accounting systems, many mundane tasks your finance team currently handles manually can be automated. This includes routing approvals, running reports, and sending reminders to customers on outstanding invoices. Additionally, you can grant role-based access to the system so managers can run their own reports. Each of these automation steps saves a great deal of time so that the finance team can work on other projects.
Reduces Mistakes
Human error is unavoidable when people are manually entering data into a system. A transposed digit or missed decimal point is a tiny mistake to make but can have big consequences. It can create a false impression of the financials or lead to lost time hunting down the mistake in the accounting database.
With cloud accounting platforms, many formerly manual data entry tasks are automated, so there is reduced opportunity for mistakes to be introduced into the database. This leads to cleaner data, reduction in lost time hunting down mistakes, and improved productivity and accuracy.
Improved Reports
If you are currently using spreadsheets to produce reports, you know how tedious it is to import data and format reports to the way you want them to look. Creating bar graphs, pie charts, line graphs, and more takes time. Spreadsheet formulas often read like complex mathematical equations, with one mistake leading to the frustrating ERROR messages we've all seen a thousand times before.
Cloud accounting systems enable many common reports to be run automatically. Just select the report, establish the data range, and run the report—in seconds, you have the report you need. If you require additional data visualizations beyond what your current system provides, some simple third-party add-ons may offer just what you need to share data with stakeholders in ways they understand.
Better Data Security
Cloud systems offer enhanced data security over spreadsheets or on-premises, out of the box small business accounting software. Most software that runs on a single PC must be manually backed up on a separate drive in order to prevent data loss due to system failures. If your company is like most companies, such backups aren't conducted daily, but rather weekly, monthly, or—not at all. Therefore, a system failure can lead to catastrophic data loss.
With cloud accounting systems, the cloud host automatically backs up the data, so you have the peace of mind of knowing your data is available, no matter what. Most cloud hosts also maintain physical servers in distant geographic areas so natural or manmade disasters do not affect their ability to provide customers with data. And cloud hosts run top of the line security on their systems to ensure that viruses, trojans, and malware do not infect their host computers or their customers' computers. Cloud systems offer security far above what most companies can provide on-premises.
Ready to Explore Cloud Accounting Systems?
Mindover Software can help you explore and select the best cloud accounting system for your company's needs. Whether you need a basic cloud accounting package, an enterprise resource planning (ERP) system, or custom add-ons to ensure full business support for your finance team, we have many years of experience helping companies select the appropriate business software. Contact us or call 512-990-3994.